Boldogkő Castle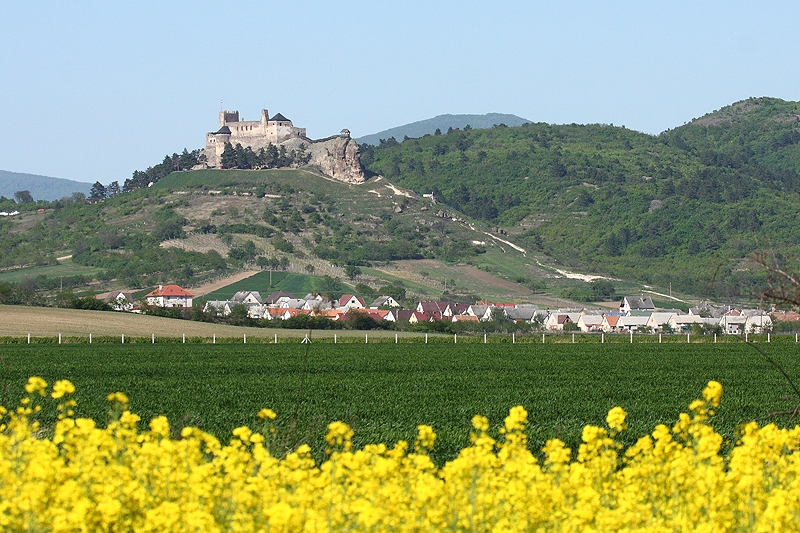 Boldogkő Castle towers above the village atop a north-south elongated and irregularly oval-shaped
andesite
mountain top. The history of the castle is quite complex and, even according to the surviving charters, difficult to follow. The exact time of its construction is unknown, but it is certain that it was built after the Mongol invasion. The stronghold, designed with an interior turret, defended the road to
Košice (Kassa)
and the Hernad Valley. Presently, the castle is in the hands of the local municipality.
A new major renovation and excavation effort began in 2002. The castle's profile changed dramatically with the reconstruction of two towers (a gate tower and a southern tower). Moreover, a 100 m walkway was constructed running along the internal courtyard, offering splendid views through the arrow slits to the north and west, and over the ramparts. Another walkway was built along the knife-edge ridge of the so-called "Lion's Rock," leading to a magnificent lookout platform. No less significant are the interior modifications. The castle cellar and wine cellar have been linked (20 m difference in elevation). This makes it possible to go straight to the cool wine cellar and bar after viewing the attractions. The completely renovated castle eagerly awaits your visit.
Attractions
Palace Wing:
1. The two-story fortress palace was a concrete slab-reinforced flat-roofed building. In order to be better able to utilise the space, a higher roof was integrated during renovations. The large and stately knight's hall is the result.
2. This wing also houses an exhibition of thousands of tin/lead soldiers and their meticulously detailed dioramas depicting the most important battles in Hungarian history. The scenes can even be utilised to teach history during class tips. This exhibition is the largest of its kind in Central Europe.
Mill Bastion:
The grain mill was restored to complete working order. In fact, visitors can even try their hand at grinding.
Exhibitions:
archaeology;
military history;
tin/lead soldiers and dioramas;
coats of arms and flags;
prison and torture chamber;
smithy and forge;
mint and numismatic exhibit;
rocks and minerals; and
sculptures and statues.
The next phase of excavation and research will focus on the castle gate tower and defence works along the northern wall. To read more details about the renovation work, click
here
.