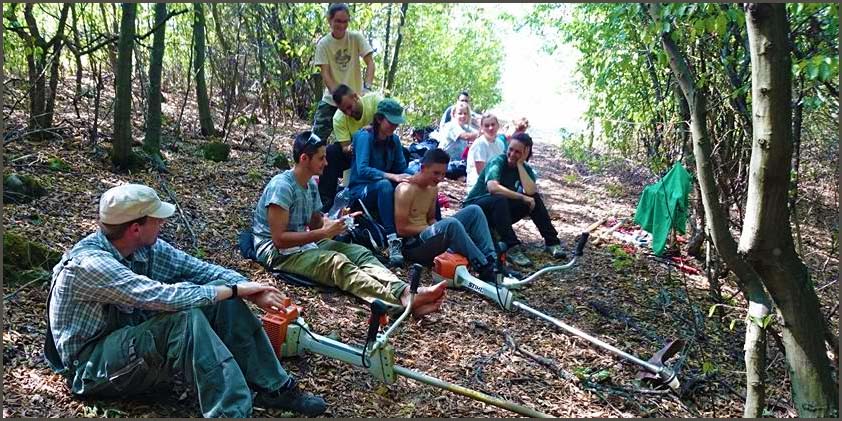 The Jósva Volunteer Camp, formerly known as the Goldenrod Camp, has been held for nearly twenty years. Initially, the group consisted mainly of friends and acquaintances, and the tradition was passed down from generation to generation. This is how we eventually became Goldenrod Volunteers. The older volunteers settled down with families and children, which meant that for some, their life direction and interests shifted away from the camp. For the last five years we four have organised the camp with accommodation provided by the Garan Guest House. Our objective continues to be inspiring active participation by young people and programmes in the service of nature.
The two-week camp is free of charge, and a great practical learning opportunity for natural science students. It is always held in August to coincide with the International Hucul Horse Races and Farrier Competition. During the first week, the main task is the eradication of invasive plants and other responsibilities assigned by the national park covering various conservation projects. Thus, in addition to practical work the camp provides insights into the structure and operations of Aggtelek National Park. During the second week, volunteers may participate in optional youth activities. The offerings this year included short and long surface hikes, three different cave tours, visiting the hucul horse herd, bird ringing, horse-drawn carriage rides, star gazing and many other attractions.
---
In 2014, the camp received support from Aggtelek National Park. Since then, we have tried to develop a more sophisticated picture of the camp that will be more attractive to both academics and hikers alike. This year (2015), with the help of social networking platforms and posters, more than triple the number of people applied as were spaces. Acceptance was based on the applicants' letter of motivation and capacity limit.
The 2015 camp was a great success, largely thanks to the team that came together. Everyone was enriched by their experiences and returned home with heavy hearts. Every volunteer received a souvenir t-shirt with the organisation's logo. The national park's Directorate also received positive feedback. We hope that the same team will return next year to tackle new tasks.
Our short-term plans include expanding the camp and holding it more often. We look back with pleasure on our own experiences at the camp, and it has been a great pleasure to carry its traditions and values.
More information and photos are available on the Jósva Volunteer Camp Facebook Page.
Organisers:
Gergő Mátó
Tel: 0670/6191262
Email: mato.gergo94@gmail.com
Zoltán Mátó
Tel: 0670/6189328
Email: zoltan.mato@gmail.com
Arabella Tonhajzer
Tel:0630/3255948
Email: tonhajzerarabella@gmail.com
Dóra Szilágyi
Tel: 0670/2016588
Email: szilagyidora92@indamail.hu