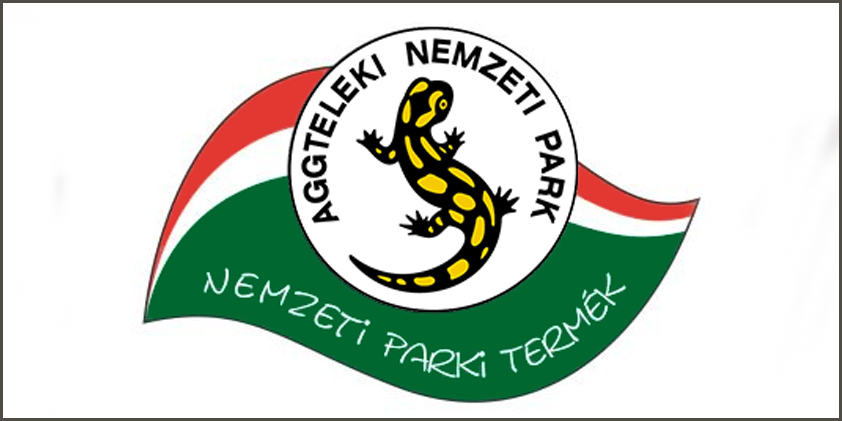 Information
Winners of Aggtelek National Park Official Product Certification 2013, 2016 and 2017 (valid for 5 years)!
Three years ago Aggtelek National Park announced its first four officially certified Park products, along with the other 9 Hungarian national parks. The primary purpose of awarding "official product" trademarks to local producers and businesses within the national parks system is to improve the image of these products and facilities while raising environmental awareness; as well as strengthening regional nature conservation, rural development and economic co-operation. Moreover, the system aims to expand business opportunities and increase market access. Purchase of products bearing the official "Aggtelek National Park Product" label contributes supports the local culture, local producers, sustainable agriculture and the local economy.
A full list of these products can be found at http://nemzetiparkitermek.hu/mainpage.html. Our winners in 2013 included The Koltay's jams and mushroom products in Aggtelek, the Fruktarium's brandies and guest house in Trizs and Béla Berecz's Kisház guest house in Jósvafő. While other national parks have regularly announced new rounds of applications since then, this is just our second round. What also sets this round apart is that the eligible area has been expanded to small producers and facilities in the Zemplén Nature Reserve and Tokaj-Bodrogzug Nature Reserve as well, since they come under Aggtelek National Park jurisdiction. Conditions include ingredients having to be gathered within ANPI and/or Natura 2000 territory, utilisation of local or at least Hungarian materials, being representative of local Gömör-Torna cultural heritage, and being as environmentally-friendly as possible. All applicants also must be able to give receipts for goods.
Accomodation
Kisház - Jósvafő
"Kisház"
Built in the mid-19th century, this former residence is now a protected monument and guesthouse in the centre of the village of Jósvafő, located beside the Bell Tower.
The renovated house is divided into three areas plus a porch, and is furnished with traditional furniture. There are sleeping places for 4 persons, a bathroom and an equipped kitchen/dining area. For those who love nature and the village atmosphere.
Guests at the Kisház, or other visitors may also take advantage of these ANPI certified ecotourism services offered by Gömör-Tornai Ökoturisztikai és Környezeti Nevelési Bt.:
Guided day and evening walking tours of Jósvafő and its surroundings:
- Local Museum
- Cultural History Walk
- Old Town Walk
- Jósvafő Village Walk
- Tour of the Wine Cellars on Szőlőhegy
Occasional Local Product Tastings at the Nyitott Szín (Open Learning Shed);
Man in the Karst local culinary programme at the Nyitott Szin (Open Learning Shed) or Local Museum;
Ethnographic and Handicraft Programmes at the Open Learning Shed
(still) Live Local Folk Music;
Impish Stories (adult program)
Integrated Environmental Education Programmes:
- 1-3-day field trips,
- 5-6 day forest school programmes and;
- 5-10 day organised summer camps.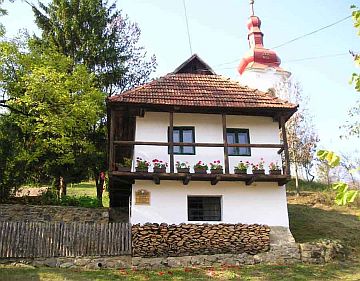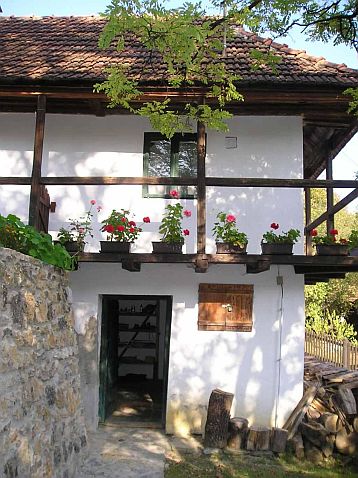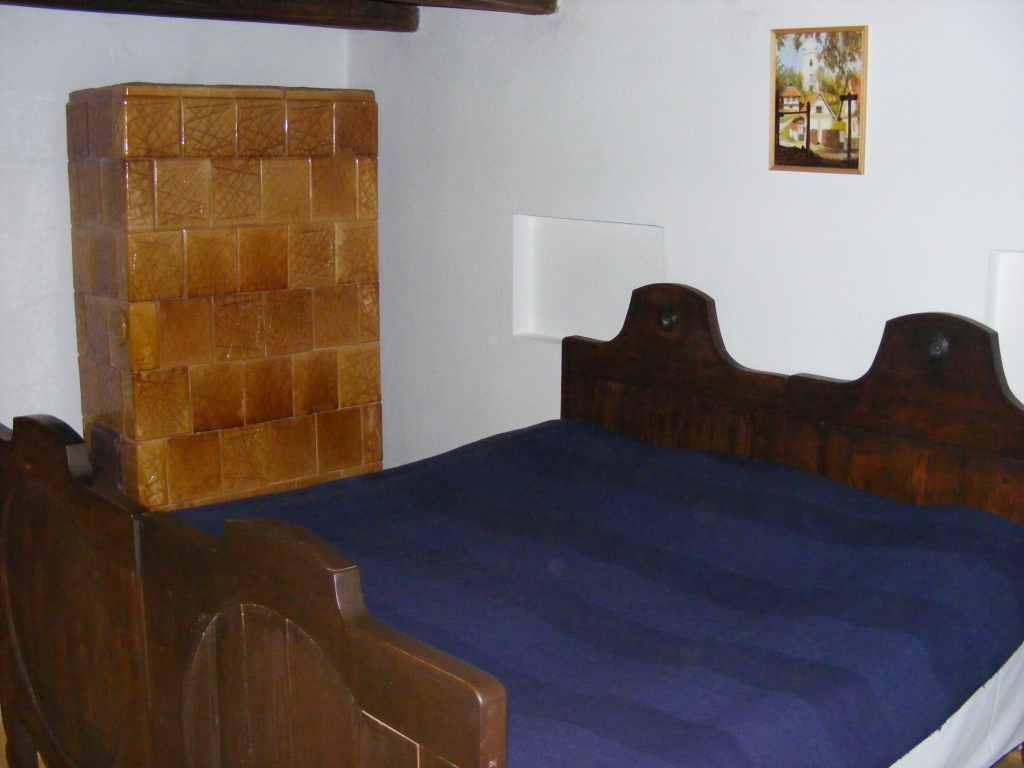 More Information:
Berecz Béla, Gömör-Tornai Ökoturisztikai és Környezeti Nevelési Bt.
3759 Jósvafő, Dózsa György utca 5.
Tel.: +36/30 3311-722
Fax: 48/350-053
josvafo_kishaz@freemail.hu
josvafo-ofalu.hu
Fruktárium Guest House - Trizs
The cottage was renovated and modernised in 2013, but according to the traditional Gömör peasant style using adobe bricks and incorporating small windows, a white façade and arcade veranda as it was at the beginning of the last century.
The peaceful rooms have beamed ceilings and period furniture.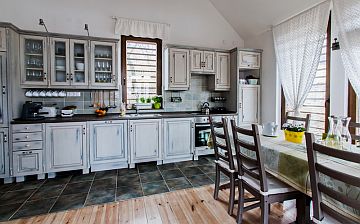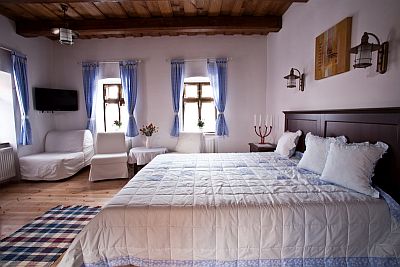 More Information:
Ilona Danyi Ácsné, EFFICIENT Gazdasági Tanácsadó és Szolgáltató Kft.
3724 Trizs, Petőfi u. 22.
Tel.: +36/48 504-230
fruktarium@fruktarium.hu
www.fruktarium.eu
Irota Ecolodge
The Irota EcoLodge premises consist of three spacious, luxurious and well-equipped holiday villas and a shared natural swimming pool (size 6x16m). Although slightly different in detail, the houses basically have the same lay-out and are all adjusted to guests with special needs.
Each house (170 m2) has its own style: The Lower House is the rustic, countryside type, the Middle House has a retro, 1960s feel, while the Upper House has a sleek and modern design. On the outside terrace, you will find all necessary furniture to enjoy the beautiful sunny days. From here, you have easy access to the natural swimming pool and the fishing pond, which are picturesquely located amidst the reeds.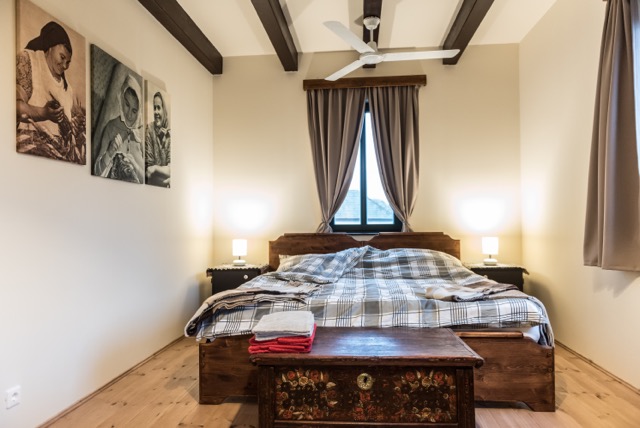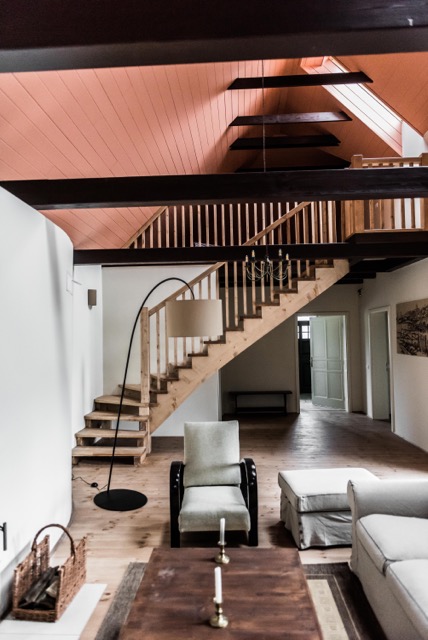 More Information
Jeroen van Drunen, Klunen Magyarország Kft.
3786 Irota, Petőfi Sándor út 42.
Tel: +36/48 349-260
info@irotaecolodge.com
irotaecolodge.com
Antal Major Guest House - Tornaszentjakab
Antal Major
Ecotourism services:
Rustic smorgasbord;
Horse riding;
Bicycle rental;
Presentation of traditional farming; and
Natural and cultural history tours in the Cserehát Hills, Aggtelek National Park and the Slovak Karst National Park.
Further Information:
István Bodolai
Antal-major Guest House, Avena2000
Antal-major, 3769 Tornaszentjakab
Tel: 06-70-384-5830
Foodstuffs
Royal Treats (mushroom products, jams and cordials) - Aggtelek
Locally gathered and processed forest fruit and wild mushroom products since 2008.
Jams include: quince, dogberry, apricot, apple, sloe, green walnut, rosehip, elderflower, mulberry, plum...
Mushroom products include: morels, cep, bolete, chanterelle, fairy ring mushroom, black chanterelle (horn of plenty), and honey fungus among others.

Drink syrups include, among others: dogberry, sloe, elderflower, rosehip, wild plum, lemongrass, forest mint, thyme, acacia flower, elderberry, dandelion, grape, quince, quince and ginger…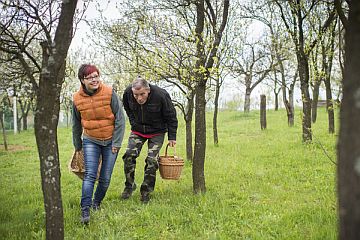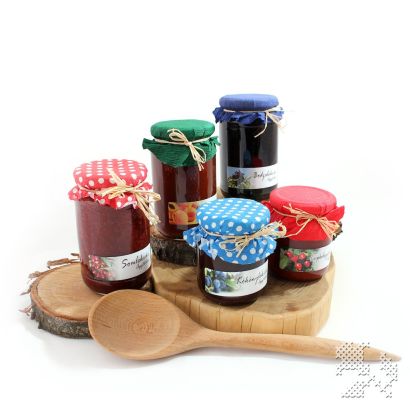 More Information:
Krisztina Zsoldos Koltay
3759 Aggtelek, Kossuth Lajos utca 49.
Tel.: +36/30-9331-718
info@erdeigomba.hu
www.erdeigomba.hu
FRUKTÁRIUM (jams and fruit brandy) - Trizs
The family business was founded in 2009, collecting fruit from individual members in the village of Trizs, and with permission, from Aggtelek National Park. The palinka is made from plum, quince, dogberry, Szögliget grapes, wild apples, wild pears, elderflower and sloe.
dogwood jam
quince jam
sloe jam
rosehip jam
concord grape jam
quince jam (for adults – incl. brandy)
sloe jam (for adults - incl. brandy)
dogwood jam "for connoisseurs"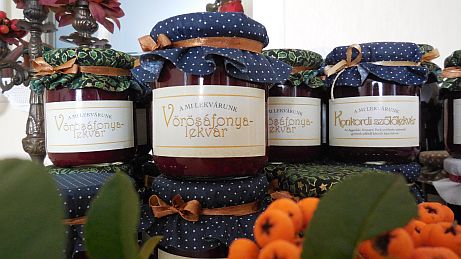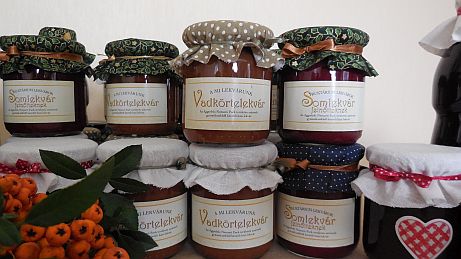 More Information:
Ilona Danyi Ácsné
3724 Trizs, Petőfi u. 13
Tel: +36/30-625-6092, +36/48-504-230
fruktarium@fruktarium.hu
fruktarium.eu
Gonda Family Cheese Workshop - Erdőbénye
The herd of 700 ewes and 50 goats graze on 80 chemical-free hectares within the boundaries of the nature reserve on the outskirts of Erdőbénye. A number of mountain springs and protected flora are found in the wooded pasture. The cheeses are made using traditional methods and formed by hand. Visitors may watch cheese being made on the spot, pet the animals and taste the cheeses.
goat and ewe cheeses:
red onion goat cheese
natural ewe cheese
soft ewe cheese
smoked ewe cheese
natural goat cheese
aged natural goat cheese
chive goat cheese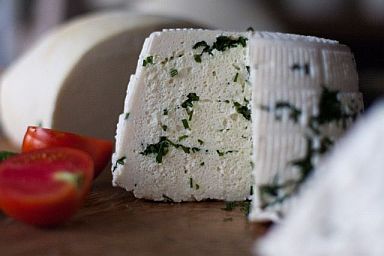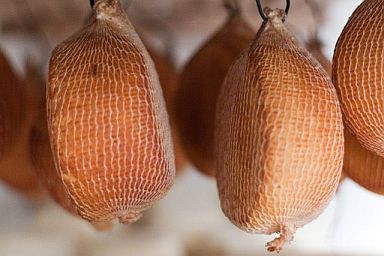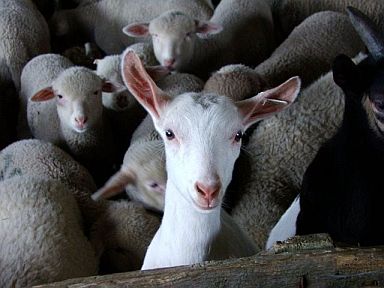 More Information:
Mária Kiss Gondáné
3932 Erdőbénye, Mátyás király út 67
Tel:+36/30-580-1557, +36/47-336-005
gondacsalad@freemail.hu
János Ambrus (honey) - Sajólád
János Ambrus has twenty years experience as a beekeeper and honey producer. From the 4-5 tonnes of raw honey annually harvested he makes a wide range of products, out of which two varieties have won ANP certification. In addition, he is an active member of both the Sajómenti and MártaFügedi Craft and Folk Art Associations.
​More Information:
Ambrus János
3572 Sajólád, Dozsa Gy. út 55/A
Tel: +36/20-431-5134
a1j7@freemail.hu
Csicsörke (jams and cordials) - Bodrogkeresztúr
At first, we prepared our jams for ourselves for fun, and then for friends and colleagues. Only later after receiving masses of encouragement did we begin preparing our products for retail. Our Screwdriver Jam gives a nod to fond memories of the house parties of our youth. With our Chili Jam we tried to push the envelope of what customers would accept, but with the heat now somewhat toned down it has become a staple product much sought by our customers.
Together with my little family, we have been hand making our delicious and unusual jams and cordials now for four years. They are not made on a production line or stacked by forklift. We gather the fruit from our own garden and wash, peel, cut, sieve, fill, bottle and label everything by hand as if we were preparing it for ourselves. We would never sell anything we would not eat ourselves. No additives or preservatives are used, and we try to protect the fruits' original flavours, colours, aromas and vitamins.
Due to the prevalence of diabetics and dieters, our jams contain a mix of xilit and stevia rather than sugar. There is a lot of interest in these products because so many people are concerned about their personal health.
In recent years we have been working with several renowned winemakers to create their "own" jams to accompany their wines. In this way, a few of our products have made their way to Japan, Switzerland, Florida and Finland.
Our jams and cordials can be found in a couple wine shops; wine cellars, hotels and guest houses in the Tokaj Region; some Paleo shops and delicatessens.
We depend upon, and take very seriously feedback and customer satisfaction.
I have a confectioner's and chef degree, but that does not really matter since a blacksmith, weaver or stableman can also make jam - but only we make Bodrogkeresztúr Csicsörke jam!
Seedless, undiluted and without gelatine. Contains just blackberries and only enough sugar (3-5%) as required to set the jam. Recommended to accompany desserts, red meat roasts and grilled cheese.
Contains chili peppers, with some apple to relieve the spiciness. Recommended to accompany soft cheeses and red meat roasts, or just to spice up dishes.
Heat sealed and preservative-free.
Raspberry Cordial - 0,75 Litre
Very thick and fibrous, fragrant (non-filtered) cordial syrup. We recommend diluting the syrup 5:1 or 6:1. Heat sealed and preservative-free.
This syrup is completely natural, sugar-free and seedless. Flavonoid 11 contains concentrates from 11 different fruits (blackberry, black and red currant, cherry, raspberry, wild plum, rosehip, red grapes, sea buckthorn, strawberry and elderberry) and strengthens the immune system. It should not be diluted! Recommended daily consumption: 1 teaspoon a day. Only contains fruit, and therefore is also suitable for children. Heat sealed and preservative-free.
Negligee Dandelion Cordial – 200 ml
Due to the diuretic effect of the dandelion flowers, this cordial is not suitable for pregnant women. Also contains young nettle leaves and chamomile flowers. Heat sealed and preservative-free.
Contains small pieces of fruit, and 3-5% sugar as required to set the jam.
Preservative and additive-free.
Nettle and Chamomile Cordial – 200 ml
Contains young nettle leaves and chamomile flowers. Due to the diuretic effect, this cordial is not suitable for pregnant women. Heat sealed and preservative-free.
In 2017, additional products won certification:
Black currant jam with chilli and chocolate
Red currant jam
Othello grape jam
Elderberry-apple jam
Plum jam
Quince jam
Strawberry jam with rhubarb
Mint-apple jam with strawberries
Rosehip jam
Black currant cordial
Red currant cordial
Elderflower cordial
Strawberry cordial
Lavender cordial
Mint cordial
Sage cordial
Pine cordial
Red wine forest fruit ragout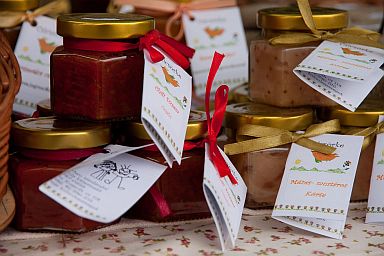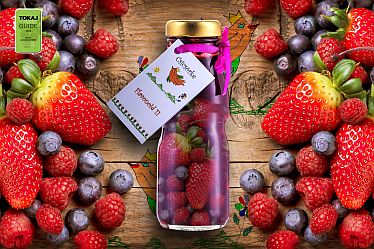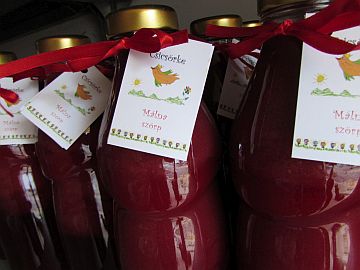 More Information:
Kovács Gyula
3916 Bodrogkeresztúr, Kossuth u. 114
Tel: +36/47-396-515, +36/20-667-2686, +36/30-275-1041
info@csicsorke.hu
György Vajda (jams, jellies, drinks, compotes) - Kéked
sloe compote
blue grape (concord) jam
peach jelly
Beszterce plum jam
sour cherry jelly
elderberry jelly
quince jelly
hawthorn jelly
strawberry jelly
Gönci peach jelly
sloe jelly
apricot jelly
rosehip jelly
peach drink
rosehip drink
elderberry-blackberry drink
sloe drink
elderberry drink
Besztercei plum drink
hawthorn drink
sour cherry-currant drink
elderflower cordial
rhubarb drink
raspberry drink
quince drink
quince compote
pear compote
Beszterce plum compote
In today's world there is a growing need to remember and protect the long-forgotten traditional methods for processing fruit. This is why I decided to prepare these homemade jams, juices and cordials without preservatives. These delicacies are produced using only our own fruit. In this way, we can guarantee that the fruit is chemical-free. Wild fruit is gathered only from places that I know are safe from exposure to pollution and chemicals. The products are prepared by hand according to old recipes. Only the least amount of sugar is added. Therefore, these delicious fruit products are also recommended for small children.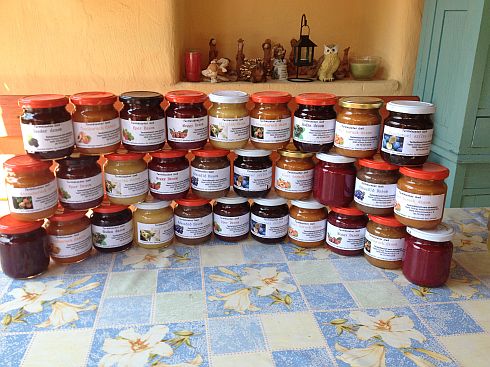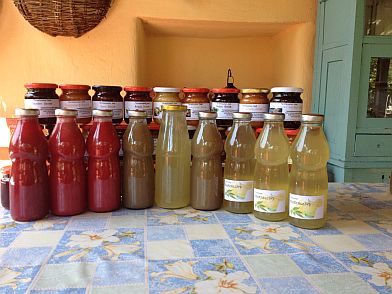 More Information:
Vajda György
3899 Kéked, Kovács út 6.
+36/70 345-5206
vajda.gyorgy58@freemail.hu
Attila Szintai (jams) - Szendrő
Szintai Strawberry Jam
Our family first produced jam from our home-grown, delicious, sun-ripened strawberries fifteen years ago. Many years of experience and tradition have allowed us to perfect our product. Our jams are made of natural ingredients with no added preservatives. The secret of the jams' deliciousness is found in the process as the fruit is gently boiled down in a traditional wood-fired cauldron and topped off with a pinch of love.
This year's strawberry jam (2016) was made using Italian Clery strawberries. The Clery variety was produced by naturally crossing an Elsanta strawberry - the variety favoured by many English growers - and another type, selected in Italy. The Clery is big and sweet, and promises a rich harvest from the beginning of June through mid-July.
A drip irrigation system compensates for lack of rain. Regular care guarantees that the strawberries remain fresh for a long time and provide impeccable ingredients to the table.
Szintai Sloe Jam
We have been preparing sloe jam for four years, and first brought this product to market in 2016. Jam from this fruit may be considered a delicacy or a curiosity, but sloes are found in unlimited numbers throughout the Bódva Valley. Beneficial properties include cleaning the blood and kidneys and assisting cardiovascular disease sufferers. Sloes also contain flavonoids, compounds proven effective in the treatment of cancers.
We recommend our products to everyone who prefers traditional and home-cooked flavours.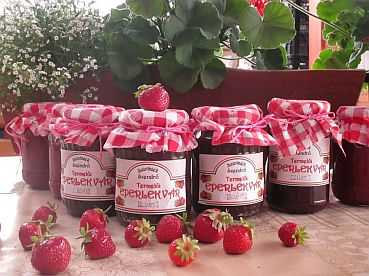 More Information:
Attila Szintai
3752 Szendrő, Rákóczi út 96
Tel: 48-560-597, +36/20-350-8889
Ildikó Hercegfalvi - Tokaj (honey and bee pollen)
Ildikó Hercegfalvi - Édes-Méhes méhészet
I have always admired and respected the organised, hard-work of bees. I had the idea of starting beekeeping as a profession for a long time. I have been involved with beekeeping for 7 years now. We have built up a business with our own strength, and in the arms of the family. We work with an average of 100 bee families. Beekeeping began as a hobby, became a passion, and later became a profitable business.
Since the dictates of the market require honey with higher purity, I am currently using the Tamási loading system. The honeys are processed using traditional methods and does not involve the introduction of any toxic or unnatural substances. The hives are located at the foot of the scenic and diverse natural features of the Tokaj Hills.
Not only do I try to protect the environment, but I also try to create healthy and natural products. For the past 1.5 years, I have only employed natural medicines and immune system boosters. Consequently, not only is the environment protected from hazardous chemicals, but also my bees and my customers. I welcome everyone to taste my varieties of nature's gold.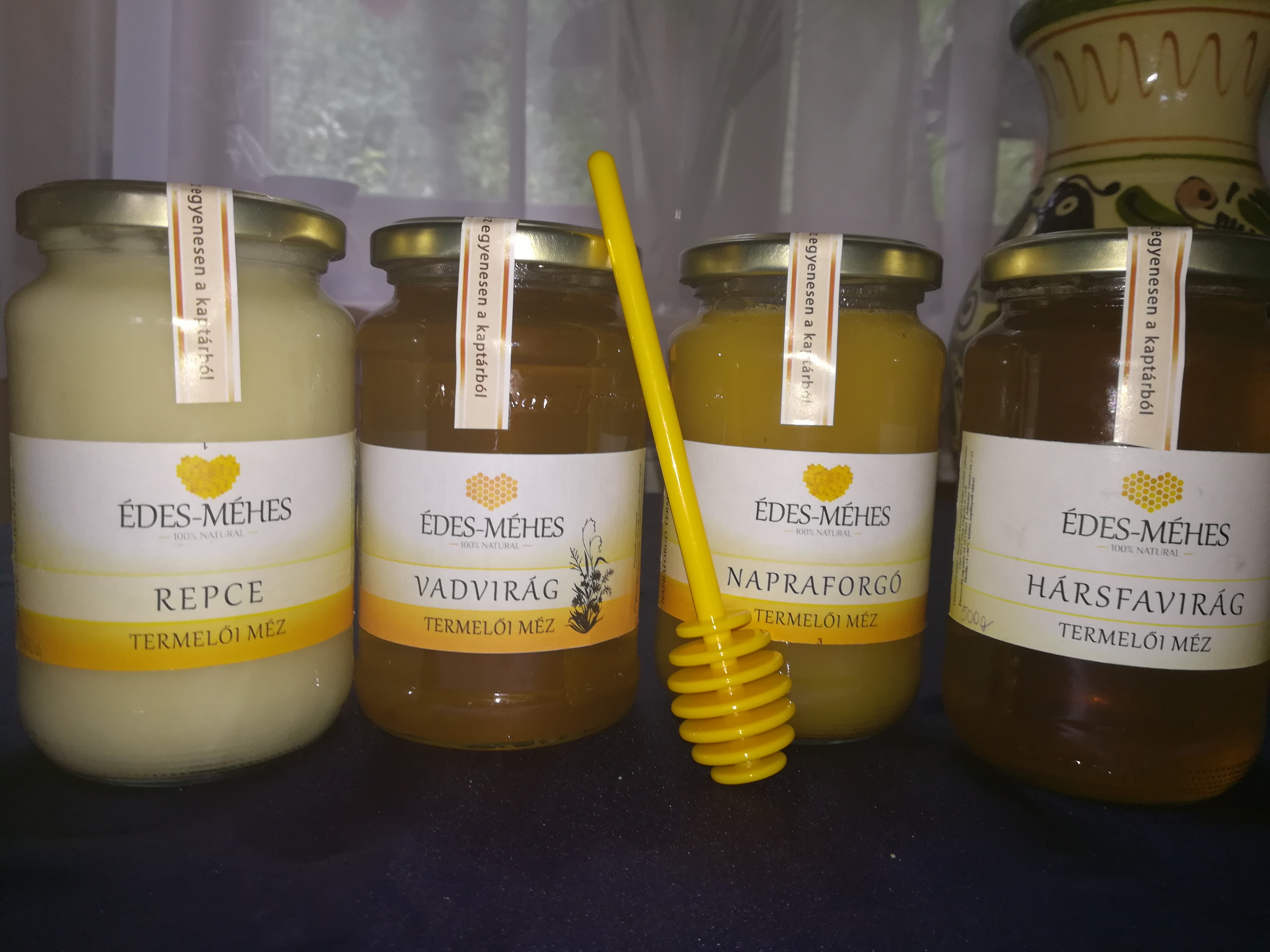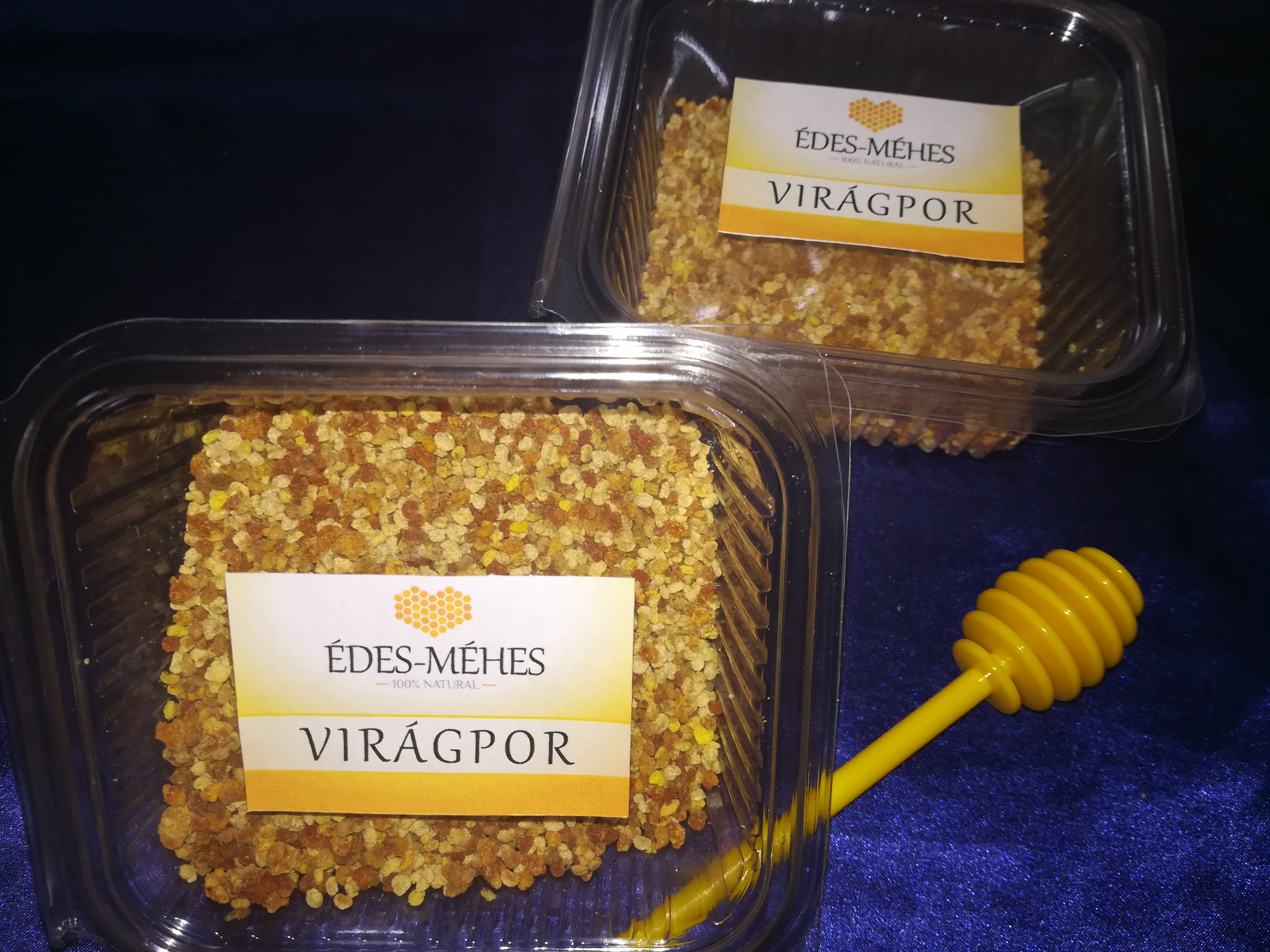 Further information:
Édes-Méhes méhészet
3910 Tokaj, Hegyalja u. 13/b, tel: 06-20-388-4542
hercegfalvi@gmail.com
https://www.facebook.com/%C3%89des-M%C3%A9hes-M%C3%A9h%C3%A9szet-906082696135497/
Miklós János Kapuvári - Tokaj (ewe cheese)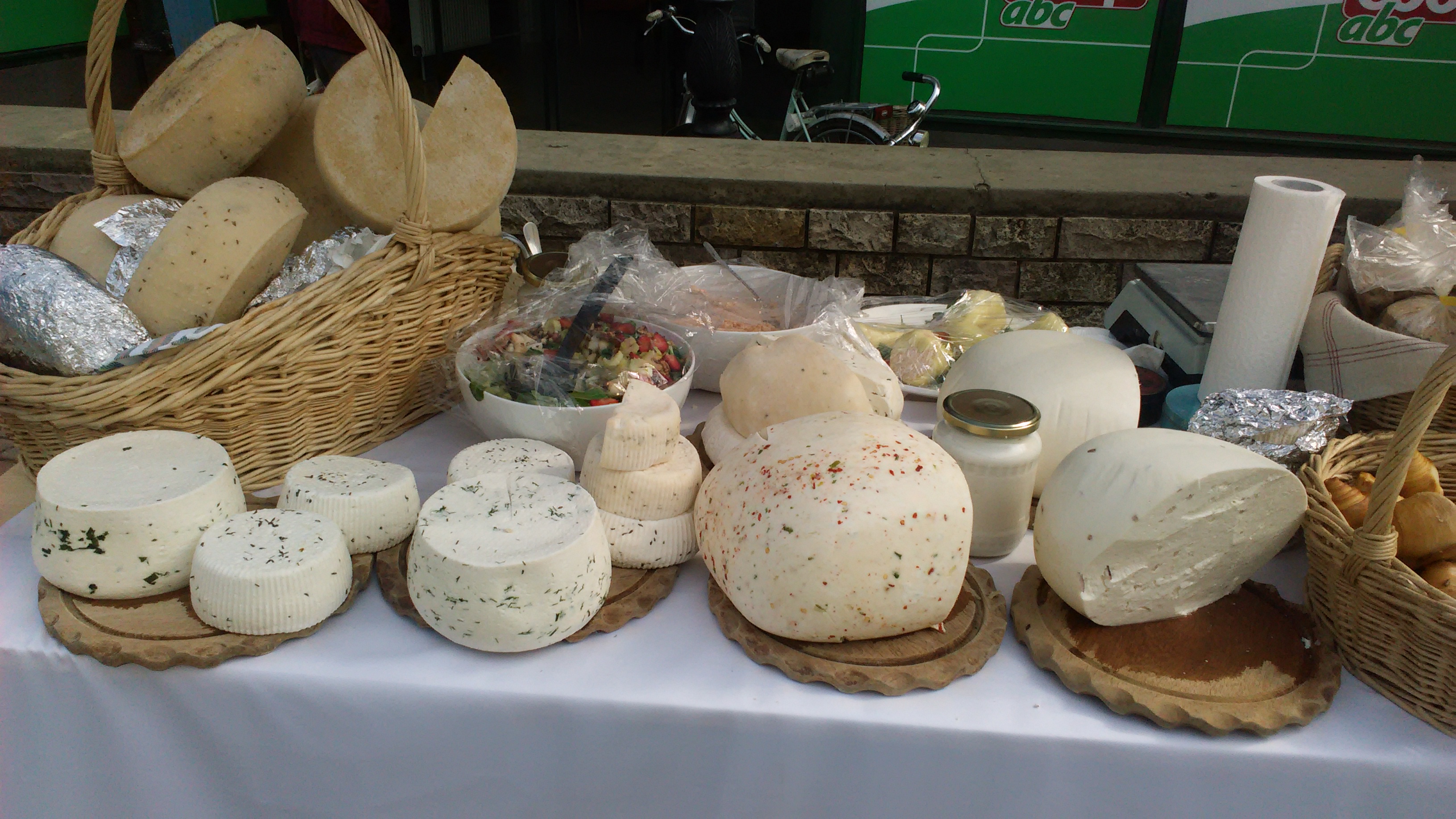 Fresh ewe cheeses (paprikás, red onion, natural unsalted, green herbs)
braided parenyica
Hard cheese (aged 6 months)
Soft cheese (aged 2 weeks)
Italian-style soft cheese (aged 4 weeks)
Camembert cheese
Mozzarella
Further Information:
Miklós János Kapuvári
3910 Tokaj, Petőfi út 50.
Tel: 06-30-407-9979
kapuvari12@freemail.hu
György Kökényessy - Sátoraljaújhely (apple vinegar)
I earned my Ornamental Flower and Gardening Qualification in 1965. Banda House and its orchard is located in Veresföld, on the side of the Sátoraljaújhely's Magas Hill. The property came into the family's possession in 1974. I have been working the 0.6 hectare orchard since 1984. Most of the vinegar is made from heritage apple tree species. My sister often assists with the processing.
I collect the ripe windfall apples, wash them and cut them into several pieces before grinding them and placing the mush into barrels. Spring water and sugar is also added. Depending on the weather, I stir the concoction 5-7 times a day over a period of 5-10 days. The mash is then pressed and filtered through a mosquito screen. The obtained juice is then placed in 1000-liter containers. Vinegar strength is adjusted with honey. The barrels and containers are stored in the 16C cellar and covered with cloth. Real vinegar needs eight, yes eight years. The currently marketed vinegar is one and a half years old. The vinegar "mother" is always returned to the new apple juice, thus preserving the living flora and the original, unique flavour.
The ancient Hungarian apples species in the orchard in 1932 include King of the Pippins, Batul, Török Bálint, Lánycsöcsü, pogácsa, Nyári selyem rozmaring and London peppin. , and the volcanic soil contribute to the vinegar's unique flavour.
No agricultural chemicals are used in the orchard, and the trees are not pruned either. For these reasons, apples can only be harvested every 2 years. Naturally, the harvest depends on the weather. The largest volume so far was 3000 litres annually; however, it can be as little as 1000 litres.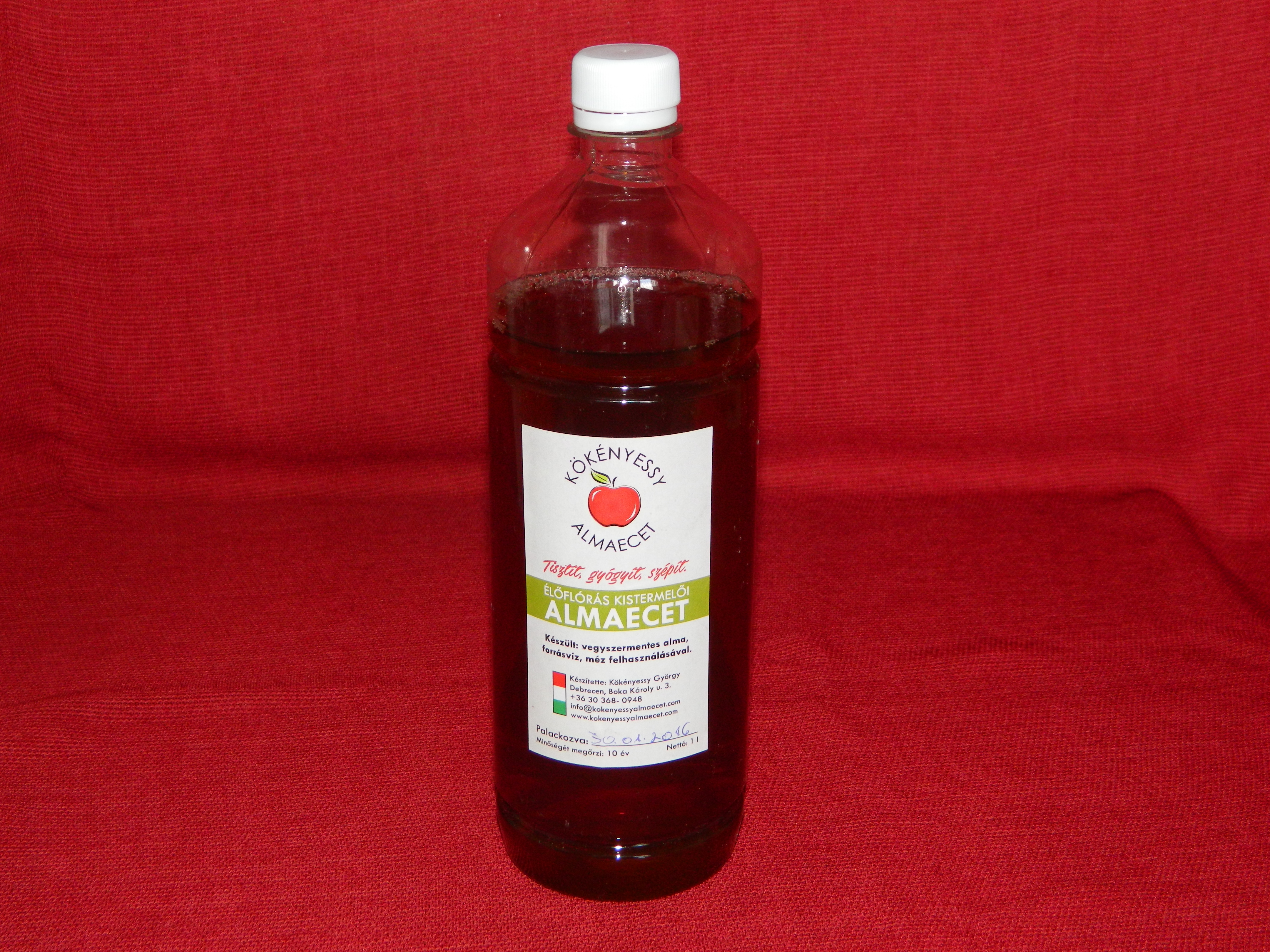 Further Information:
3980 Sátoraljaújhely, Kazinczy 3
Tel: 30-368-0948
Aranka Tóth Nagyné - Sajókaza (honey)
I began beekeeping as a hobby with my husband and a couple other families in 1994. Over the years, the number of hives has increased, and now we care for 250 beehives. Our occupation with bees, the reassuring bird chirps, the humming of the bees and the clean air quickly stole my heart. The hobby slowly became "love." I have never considered my beekeeping activities as work.
The site for the hives is located just a few hundred meters away from our apartment on a 1 hectare plot. We planted a lot of lavender and fruit trees for both the honey crop and for the cooling shade
Since we practice wandering beekeeping, we are on the road a lot. Just as bees move from flower to flower, we also move the hives from one pasture to another. This lifestyle requires a lot of energy but I enjoy it tremendously. Of course, I cannot do some of the bigger jobs alone, but fortunately, our daughters have inherited our love of nature and lend a hand when we need them.
In addition to the many varieties of honey such as black locust, canola, mixed forest, sunflower, linden and milkweed, we also produce propolis and wax over the course of the year. My intention to process the honey into other products such as gingerbread in the future is no secret.
Sajó Valley Honey
Sajó Valley Honey is made from the nectar of wild, medicinal and field flowers opening from the beginning of June to the end of July in the Sajó Valley. As a result of the regeneration of abandoned farmland, the flowers, and therefore the honey, are chemical free. Pollen sources may include sage, linden, lavender, viper bugloss, sweet clover, hemp, dill, tree of heaven, cornflower and thistle; all of which have medicinal properties. However, it should not be confused with mixed flower honey which contains pollen from crop plants such as sunflower, squash and radish
Making honey is extremely laborious both for the bees and the beekeeper. For comparison, bees can collect 15 to 35kg of black locust honey per hive every 10 days. On the other hand, the bees need 2 months to collect 0.5-1.5kg Sajó Valley honey per hive. Of course, everything also depends on the weather. Because of its relatively low yield, there is a large amount of work invested.
Product controlled by the Hungarian National Association of Beekeepers.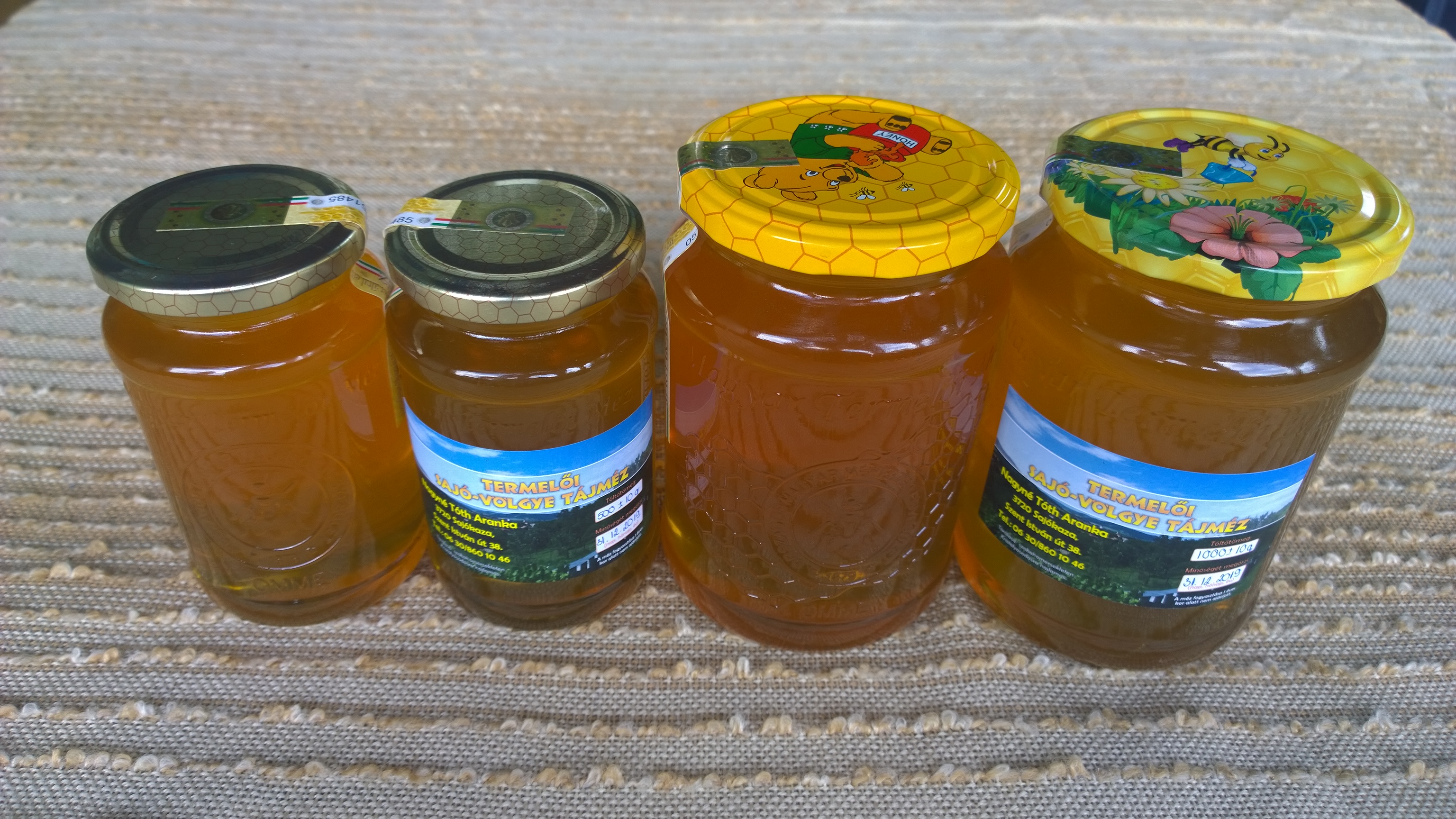 Further Information:
Aranka Tóth Nagyné
3720 Sajókaza, Szent István út 38.
Tel: 30-860-1046
arikaza@gmail.com
Márta Lénárt Polácsikné - Edelény (gingerbread)
Making gingerbread is an activity that brings great joy. It is the predecessor of the decorative cake. Gingerbread suggests abundance, health, and good wishes. We can use it for birthdays, emblems, special holidays, and obviously together with other decorations and in many forms.
I began making gingerbread in the summer of 2012. I wanted to make some for my daughter's wedding and had the opportunity to learn from the gifted Erika Vranai, a Hungarian lady who makes gingerbread in Slovakia and happened to be teaching children at a summer camp in Aggtelek.
I have always liked to bake, and gingerbread became my new hobby. Many people encouraged me, including my children. Making good dough requires patience and endurance. I do everything hand, not just the kneading. Preparation includes many delicate steps and can be very time-consuming. I utilize high quality flour, homemade honey, local eggs and prepare my own spice mixture. The dough has to rest for 2-3 days, then comes the kneading and cutting the forms.
The decoration is done with a mixture of sugar and egg white squeezed out through a small hole in a plastic bag. Edible pearls, seeds, food colouring and green pumpkin seeds are often added. My favourites are the lace designs. Each piece requires 6-8 hours of delicate, patient work.
I follow traditional folk motifs and colours, but expand on these with my own ideas. For example, bats, fire salamanders, owls and mushrooms are included to represent the natural treasures of Aggtelek National Park.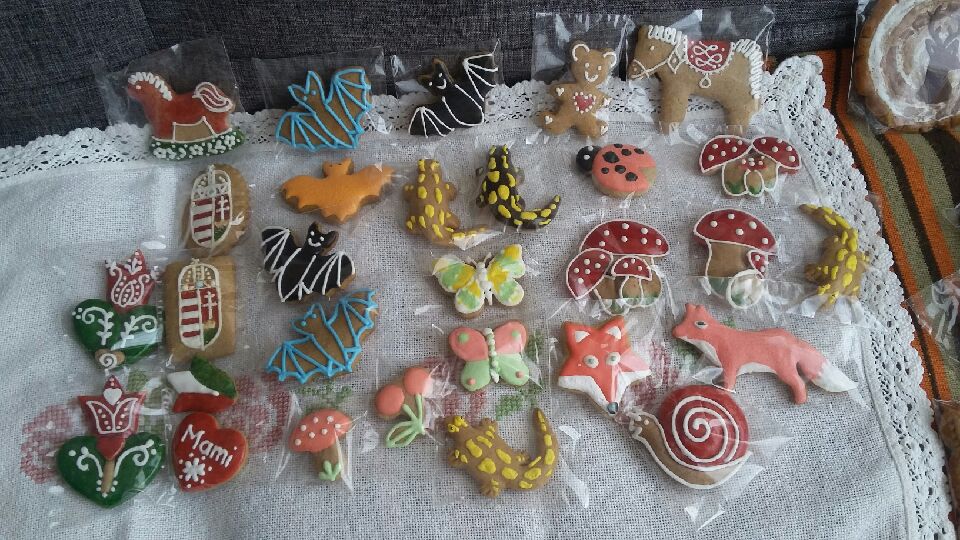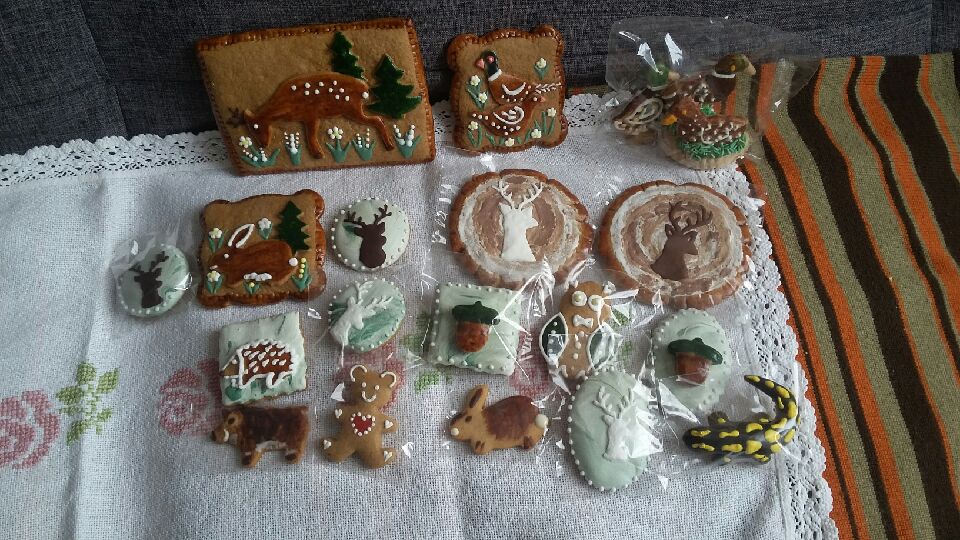 Further information:
Márta Lénárt Polácsikné
3780 Edelény Borsodi út 4.
Tel: 06-30-337-9242
pl.marta@freemail.hu
Jenő Susztrik - Satoraljaújhely (jams, pálinka)
The Széphalmi Gyümölcstár Manufaktúra makes its products from officially certified organic fruit. We also strive to use all natural ingredients. Preservation is chemical-free and relies on a heat treatment process. The majority of products are organically certified. In addition to the pears, sour cherries and plums, other fruits are also grown organically but are not certified because of the small quantity involved. Our products were judged worthy enough to qualify for the Aggtelek National Park official "National Park Product" designation in 2017.
The intense, characteristic flavours of our products are partly owed to the stony, karst, clay soil in which they are grown at the foot of the volcanic Sátorhegy Mountain on the outskirts of Sátoraljaújhely in north-east Hungary. The weather, climate, and soil are well suited for growing juicy, sweet and delicious fruit. This statement is not just national pride, but based on experience. Visitors from all over the world have acknowledged that our domestic fruit species produce the finest flavours. The rich aromas of the fruit are preserved in our pálinkas and jams, welcome delicacies on both cold winter days and hot summer nights.
We have two major product lines, "Széphalmi Nyelvforgató Pálinka" and "Zemplén's Treasure Jam."
Széphalmi Nyelvforgató (Lipsmacking) Organic Pálinka
The pálinka is made in a genuine Hungarian small-cauldron from both the fruit of our own organic orchard as well as smaller orchards in the area. It is not a secret that one of our goals is for anyone enjoying our pálinka to recognise the local fruit fragrance, inimitable fire and flavours. Part of the magic is that the soul of the fruit is immortalised in the pálinka. We strive that everyone becomes acquainted with these sensations in our tasting room, considered the sanctuary of our organic pálinka. Our 2013 40%, 50%, 60% and 70% organic pear, plum and sour cherry pálinkas may be sampled here. The 2015 40% and 50% organic William's pear pálinka is also available.
Our three premium products were made with a special maturation process. The 2013 Nyelvforgató 40% organic pear pálinka, 50% organic plum pálinka, and 40% organic sour cherry pálinka were aged in barrique barrels.
We also utilise small quantities of other fruits in order to broaden our product selection. Our orchard includes 50 apricot trees, nearly 200 quince trees, 10 wild pear trees and close to 0.5 hectares of grapes.
Our complete current selection may be viewed at www.apalinka.hu website, and ordered through our www.szephalmi-biolekvar.hu web shop.
Zemplén's Treasure Jams
A few specimens of other fruit trees such as quince, apricot, medlar and apple may also be found among our organic pear, plum and sour cherry orchards. These fruits, along with outside sourced wild fruits such as blueberries are used in the preparation of our organic jams.
Both handcrafted methods and the latest technology are utilised in the production process. Harvesting, washing, cleaning, cutting and preparation of the fruit is all done by hand. The smaller part of the cooking is carried out in traditional copper cauldrons over an open fire. The larger proportion of the cooking takes place in a sophisticated, computer-controlled, vacuum mono block that can also sterilise the products. Our jams are packaged in tasteful 10, 30 and 60 decagram jars. The range of flavours continuously expands. Please find some highlights from the selection below.
Prune-Plum Jam
The natural flavours are enhanced by cooking the jam over an open fire in a traditional copper cauldron. Chopped organic prunes are added to the organic plums. It is an excellent ingredient in Hungarian yeast pastry.
Poppy Seed-Raisin-Apricot Jam
The jam is made from Gönc apricots, raisins and poppy seeds. Indispensable in crêpes, its added spiciness combines for an unforgettable harmony.
Blueberry-Plum Jam
Wild blueberries are mixed with organic plums, however, the dominant flavour remains that of the wild fruit. Recommended to accompany wild game.
Medlar Jam
This late-autumn fruit is slightly sour, and has a very special flavour. Recommended as an ingredient in cakes and pastries.
Our products can be tasted at the Széphalmi Nyelvforgató Organic Pálinka Tasting House (Kazinczy út 199, 3988 Sátoraljaújhely-Széphalom). Our complete current selection may be viewed on our website, and ordered through our webshop.
Zemplén's Treasure handcrafted quince-apple jam
Artisanal raspberry-nectarine jam
Zemplén's Treasure organic plum jam
Artisanal raspberry-apple jam
Artisanal two blueberry jam
Zemplén's Treasure handcrafted blueberry-plum jam
Artisanal poppy seed, raisin, apricot jam
Zemplén's Treasure handcrafted lavender-plum jam
Artisanal apricot-black currant jam
Artisanal cantaloupe-apricot jam
Artisanal spicy-plum jam
Nyelvforgató organic pear pálinka 50%
Nyelvforgató organic pear pálinka 60%
Nyelvforgató organic pear pálinka 70%
Nyelvforgató organic William's pear pálinka 50%
Nyelvforgató organic plum pálinka 50%
Nyelvforgató organic plum pálinka 60%
Nyelvforgató organic plum pálinka 70%
Nyelvforgató organic sour cherry pálinka 50%
Nyelvforgató organic sour cherry pálinka 60%
Nyelvforgató organic sour cherry pálinka 70%
Nyelvforgató barrique organic pear pálinka 40%
Nyelvforgató barrique organic plum pálinka 50%
Nyelvforgató barrique organic sour cherry pálinka 40%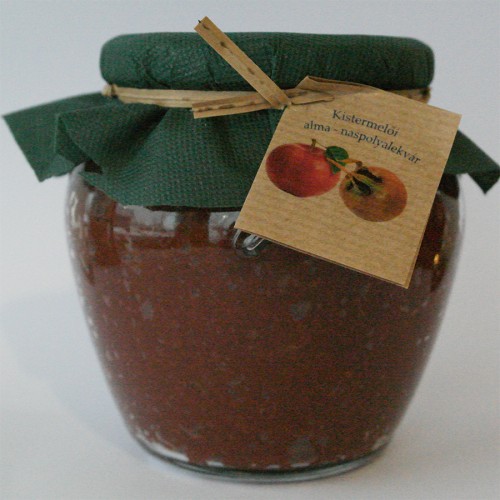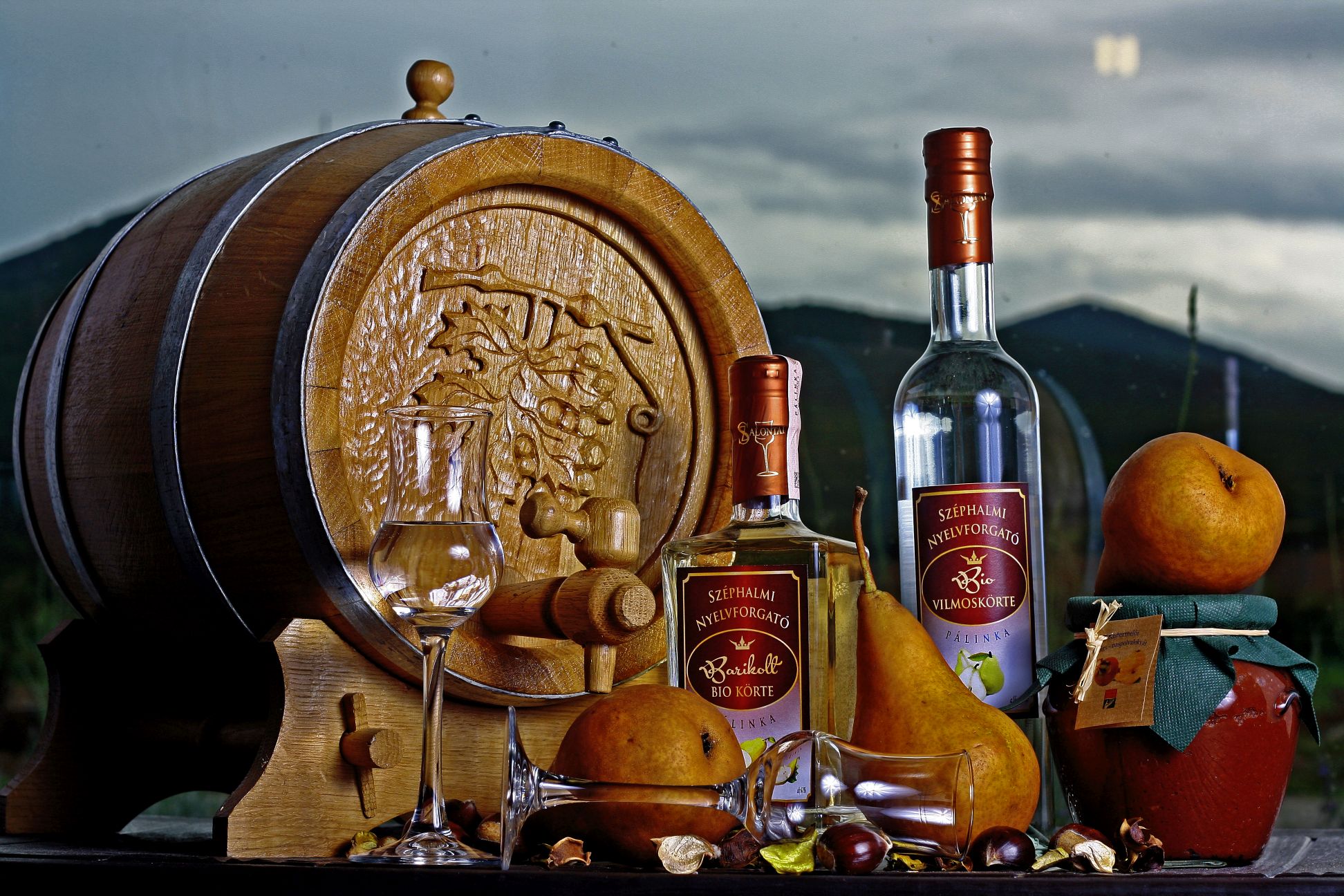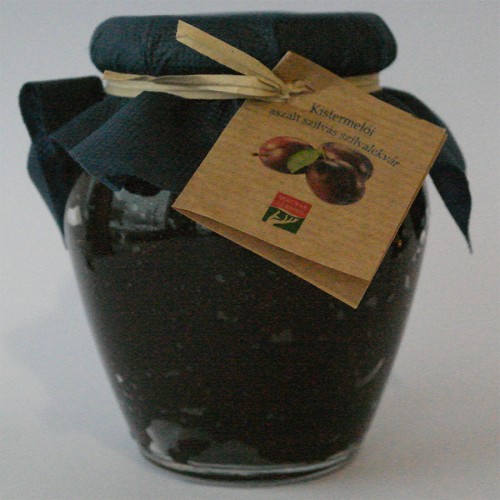 Further Information:
Széphalmi Gyümölcstár Manufaktúra
3980 Satoraljaújhely, Kazinczy u. 63.)
Tel: 06-30-958-4923/06-70-408-5654
szephalmi@apalinka.hu
József Szászi - Erdőbénye (méz)
I have been producing honey since 2000, when I earned my beekeeper's qualification. At present, beekeeping is our primary activity. We operate as a family farm.
Our hives have been established in Erdőbénye since 2001. We care for 100 bee families spread across four sites. We only conduct beekeeping activities in these specific areas. A local farmer allowed us to place our hives on his land. When we got to know the local plants, we decided to use another bee technology other than traditional bee-keeping. Rather than transporting the hives from place to place to produce different kinds of honey, we utilise standing lovage. The hives remain in the same place year round.
The diversity and variety of local plants gave us the courage to acquaint people with the flavor and color of honey from the nectar of these plants. Until now, many people have been unfamiliar with horse chestnut honey, mint honey, Viper's bugloss honey, wild blackberry honey, as well as the well-known Linden honey. These wonderful flavours are closely associated to the Zemplén area.
The rich flora of the nature reserves visited by bees in and around Erdőbénye provides a continuous source of nourishment for the bees. The bees are in constant circulation throughout the year. Our hives are not officially certified as organic, however, we operate in accordance with organic farming regulations.
• Horse chestnut honey:
• Linden honey
• Blackberry honey
• Viper's bugloss honey
• Mint honey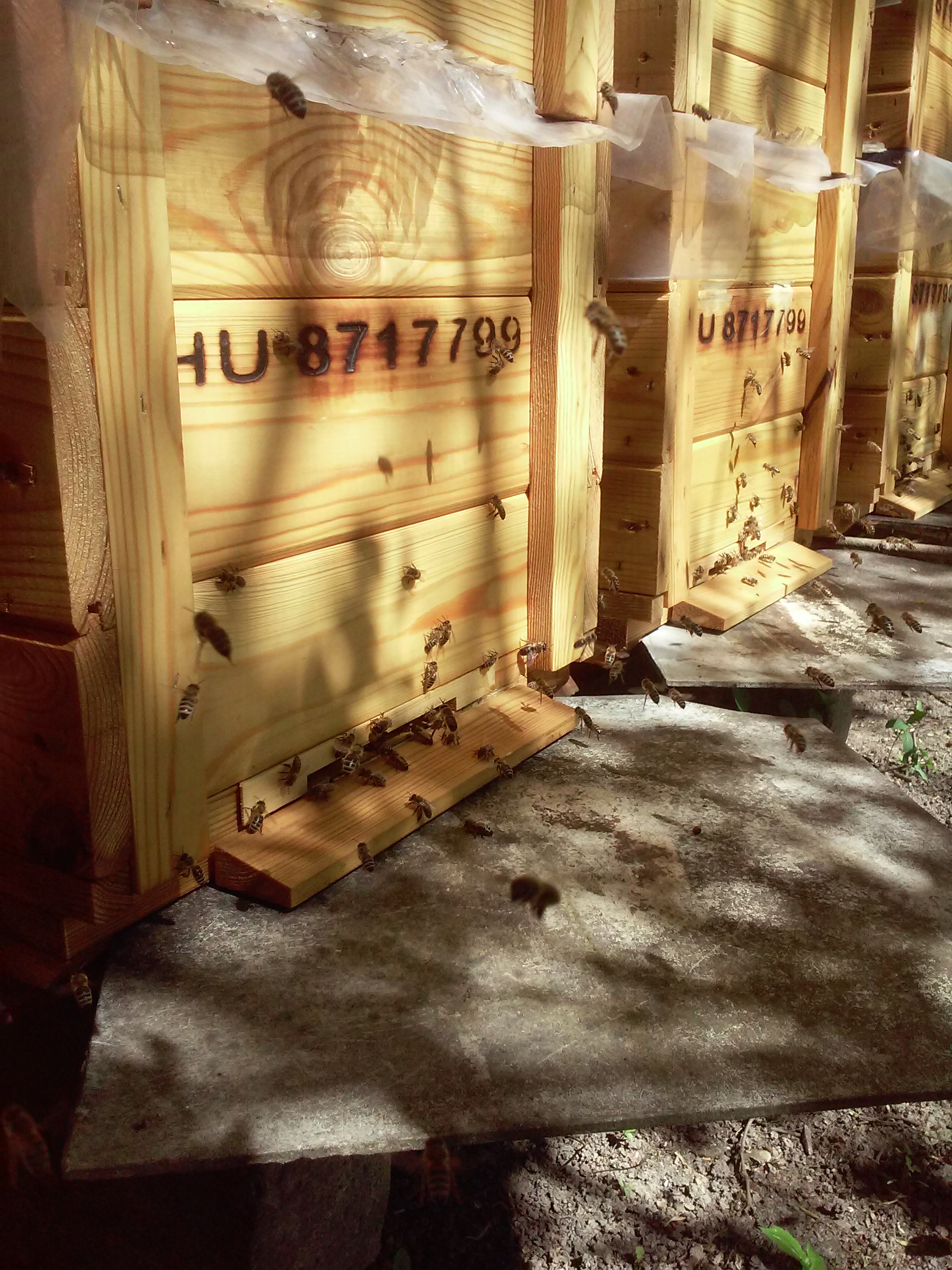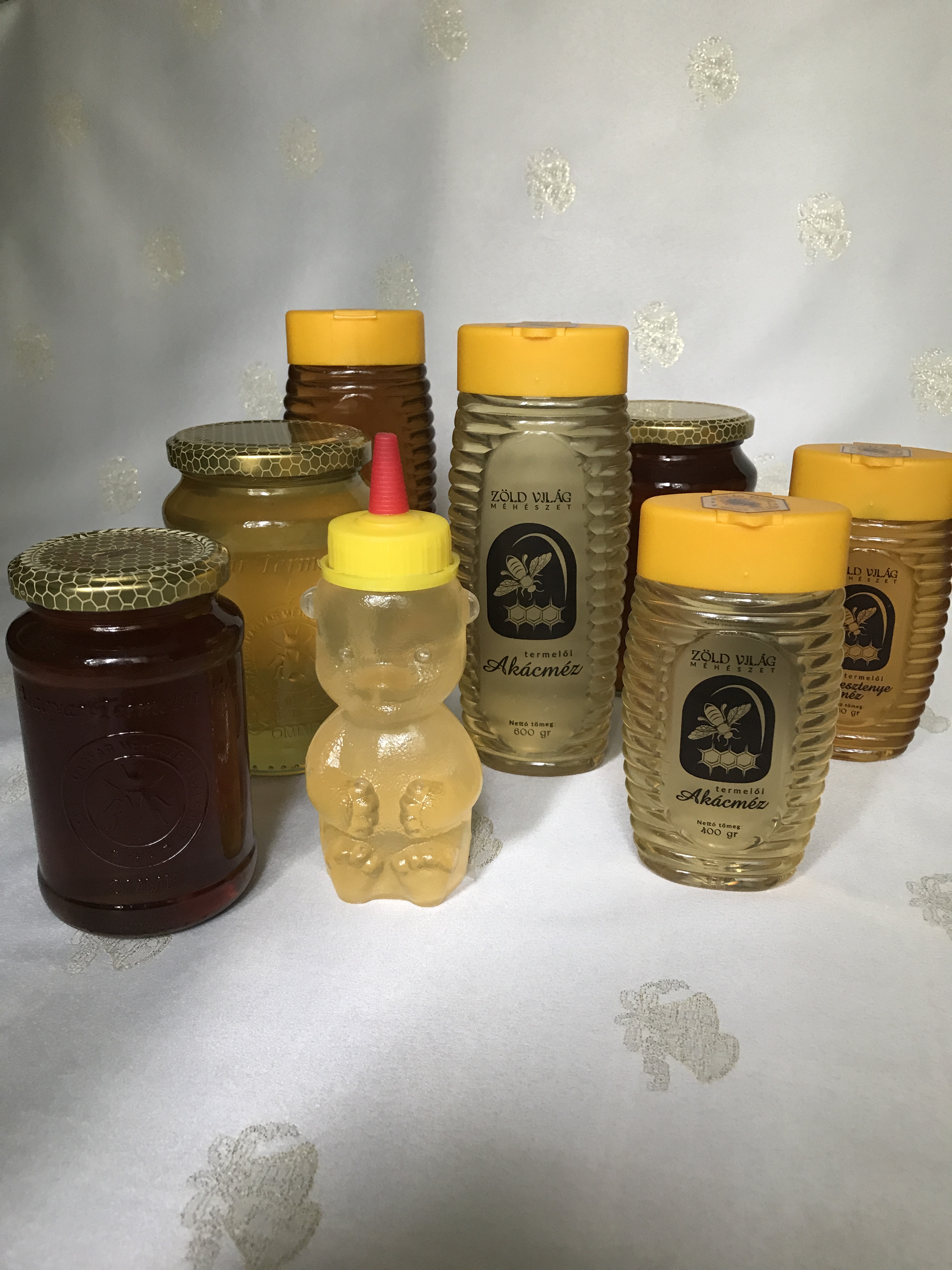 További Információ:
4405 Nyíregyháza, Szűrszabó utca 3.
Tel: 30 397-3296
szaszijozsef9@gmail.com
Telephely: 3932 Erdőbénye
Vilmos Vécsei (mushrooms) - Martonyi
pickled saffron milk cap mushrooms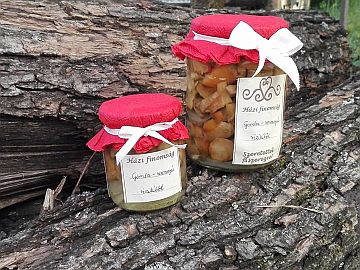 More Information:
Vilmos Vécsei
3755 Martonyi, Fő út 90
Tel: 30-410-8384
vid64@freemail.hu
Handicrafts
Gömör Folk College Association (lace and embroidery)
Gömör knot embroidery: table clothes, blouses, dresses... One of the oldest and almost forgotten historical embroidery techniques of the Gömör Region is knot embroidery which utilises goldwork embroidery patterns. However, the technique does not create the traditional smooth, flat stitches, but rather tiny knots which appear optically to loop through each other or stack next to each other like rows beads. White thread is used on a background of light coloured material. The craft requires very intensive, precise execution. We wish to preserve this very old embroidery technique, and also introduce it to a wider audience. To this end, we work the decorative motifs into modern clothing and organise exhibitions.

Gömör Bobbin Lace: This technique came to Hungary from Germany via miners' wives that migrated to the highlands in the 15th and 16th centuries. At first, the lace was used on the clothes of wealthy women and to adorn altar clothes, but over time its use became more widespread, for example to decorate household textiles. The lace makers utilise a stuffed pillow lace and bobbins, with the pattern picked out with pins on the pillow. They also made border lace and lace inserts. The majority of the patterns can be found in Most of the items in the highlands sample treasures found in Rozsnyó, but some original pieces are also on display at the Gömör Museum in Putnok.
The Gömör Folk College Association was founded in 1992 with its seat in Putnok. Our objectives include the promotion of the region's traditional folk art and research and nurturing its decorative arts. We strive to promote the traditional handicrafts of the region while simultaneously adapting to current forms. This is our priority task, because following the end of World War I and the resulting Treaty of Trianon, only 21 of the 281 Gömör settlements remained in the territory of present-day Hungary. The present Gömör landscape on the Hungarian side of the border with Slovakia is characterised by the Sajó Valley, the Putnok Hills and the Aggtelek Mountains. Geographically, the territory also includes the northern part of the Borsod-Abaúj-Zemplén County.
The Gömör Museum regularly makes use of our work and collection. In addition, we regularly organise lectures and courses, and participate in the cultural life of Putnok and the region. Examples of our work may be purchased at various fairs, exhibitions and other events.
The Gömör Folk College Association won Aggtelek National Park Official Product Certification for two of its products in 2016.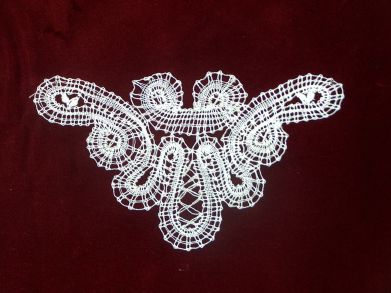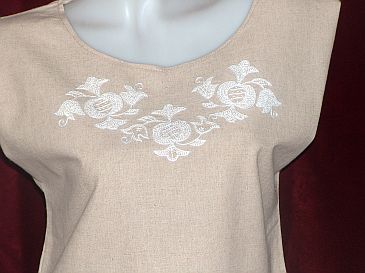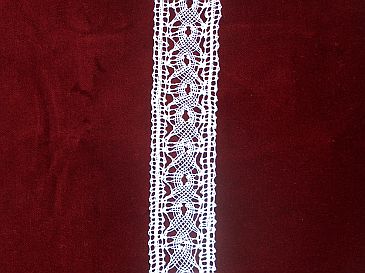 More Information:
Mrs. Éva Balázs, president,
3630 Putnok, Serényi L. tér 10
Tel: +36/20-479-2226
gomorinepfoiskola@gmail.com
Katalin Judit Fodor (hucul horse hair jewelry) - Gömörszőlős
hucul horse hair jewellery
I have been crazy about horses since my childhood. Consequently, I became a horse trainer and tour guide. In the meantime, I also perused another hobby - handicrafts. I tried all kinds of hobbies, but felt that I would like to do something different, something special. I combined my two hobbies and began to prepare jewellery made from horsehair. I attempt to satisfy modern fashions, and also create small pieces so that the jewellery is accessible to all. I incorporate only natural materials such as mistletoe, fruit seeds, bones, and of course the horsehair. Strong, long tail hairs from Aggtelek National Park's hucul stallions and geldings are collected from the herd in Jósvafő. The seeds are gathered from orchards scattered around the Gömör landscape. I am confident these beautiful pieces will help bring people together with ancient traditions and nature's beauty. Wear my unique products with love!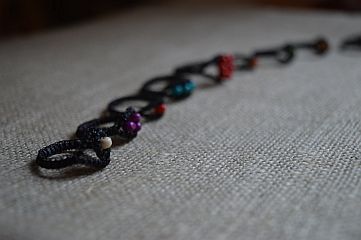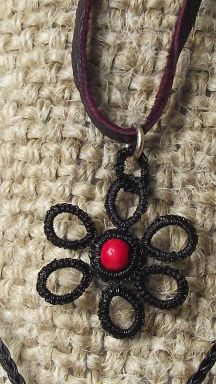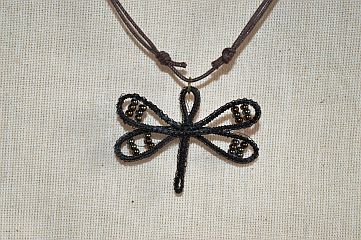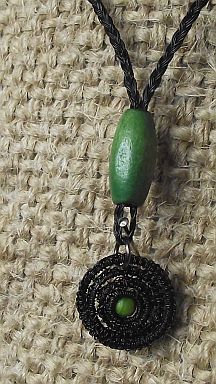 More Information:
Katalin Judit Fodor
3728 Gömörszőlős, Kassai út 37
fodorka.kata@gmail.com
+36/20-236-5525
H.Petkovics Katalin - Sajókaza (keresztszemes hímzés)
Katalin H.Petkovics is a retired biology and Hungarian teacher. She has been involved with handicrafts since 1978. She has been embroidering since her childhood and teaching basic folk art techniques for 20 years. The jury for the Hungarian Handicrafts Foundation selected her mineral jewellery for their 2017 handicrafts exhibition. Her works are mainly decorated with bead work, but she also makes jewellery incorporating various minerals, the soutache technique, and Hungarian ornamental art motifs. She also likes to weave (haversacks, tapestries) and Gömör knot-embroidery bags.
- Gömör knot-embroidery motifs and techniques;
- Cross stitched Palóc and Tiszavidék motifs;
- Use of traditional motifs and techniques; and
- Incorporation of old, authentic designs on new items, helping to enhance identity and promote the special beauty of our folk decorative art.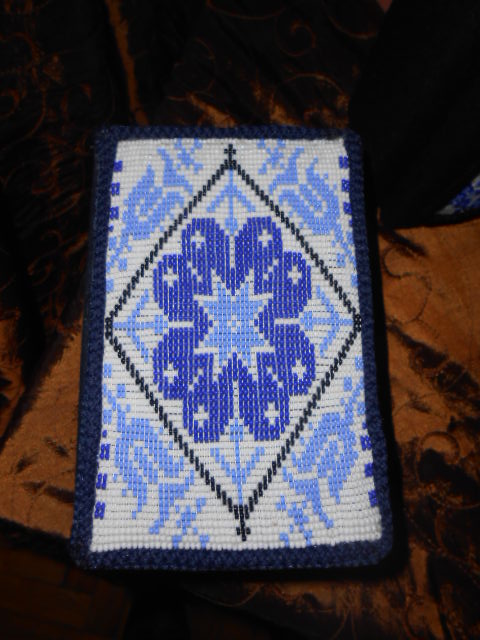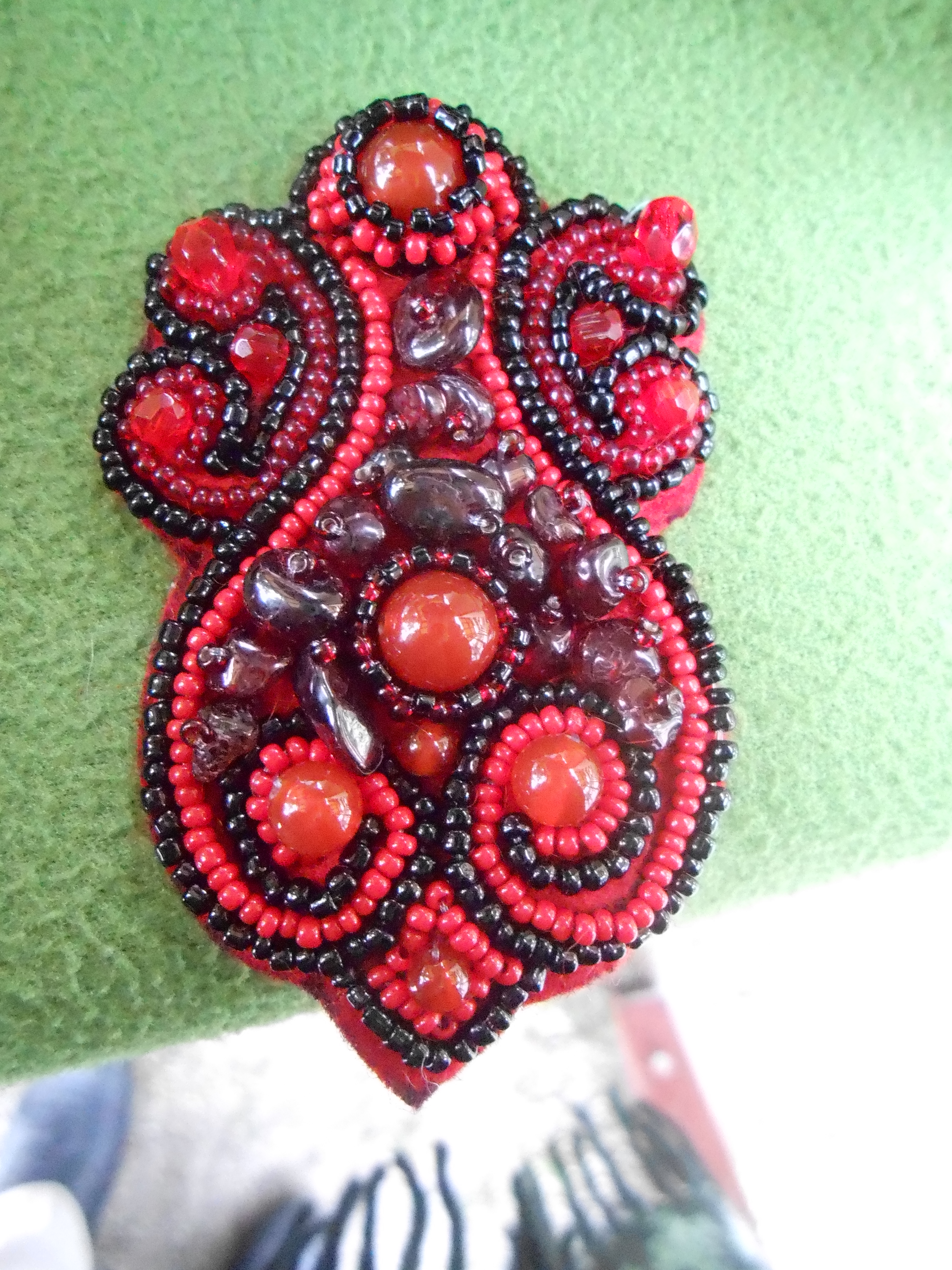 Contact:
Katalin H. Petkovics
Kossuth út 29
3720 Sajókaza
Tel: 06-70-374-0333
petkat06221@gmail.com
Sajókazai Faluvédő Egyesület PRAKTIKA Kézműves Műhely
PRAKTIKA Village Handicraft Protection Association has been operating out of the Radvánszky Culture House since 2000. Over the course of nearly 20 years, they have learned the secrets and techniques of many ancient crafts (weaving, wickerwork, patchwork, textile painting, decorating eggs, etc.) They recycle old items into new and useful ones. For example, quilted pictures and pillows are fashioned from outgrown or unwanted sweatshirts, t-shirts, bags, doormats, etc. Annual exhibits are held every March 1st on Radvánszky Day, and in the autumn for the Micro-Regional Amateur Artists Show. Moreover, Praktika regularly exhibits at the SZIGET Festival, in the Hungarikum Village, in Buda Castle, and at the House of Hungarian Culture. In 2017, the Foundation for Hungarian Crafts presented them with an award, and their quilted tapestry entitled "The Legend of the Miracle Stag," was awarded the exhibition's special prize
The decorative designs adorning the lids of the textile boxes are based on local embroidery motifs. They use locally woven materials for the new items. Many of the home-made canvases are more than 100 years old. All discarded textiles receive a new life with them.
Quilted tapestries with Tiszavidéki motifs;
Embroidered, Páloc bird motif textile boxes;
Potholders and bags decorated with folk motifs made with recycled denim; and
Tapestries based on apron material.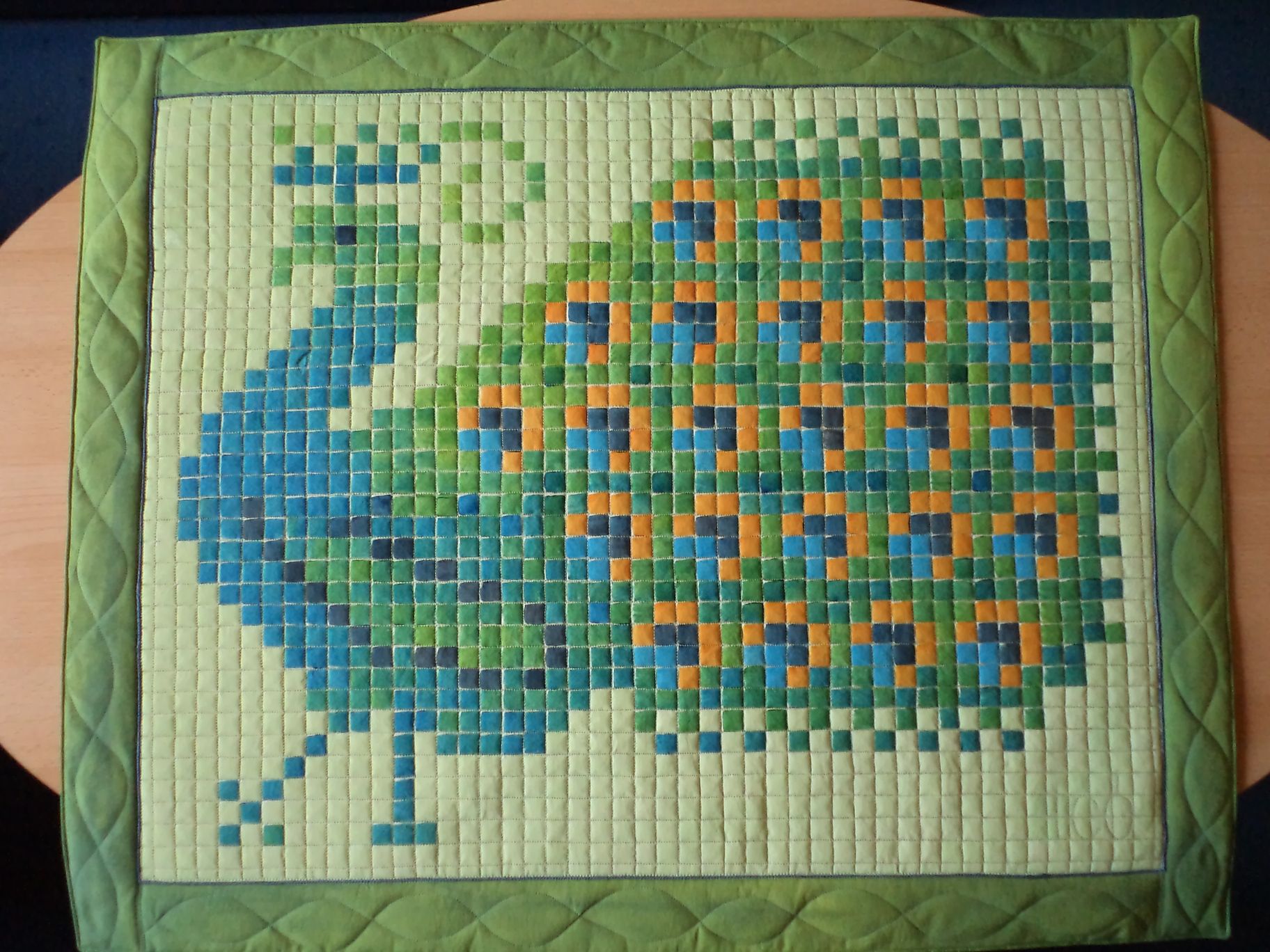 Contact:
Katalin H. Petkovics
Kossuth út 6
3720 Sajókaza
Tel: 06-30-333-1993
radvanszkykultur@gmail.com
István Hudák - Tokaj (master cooper, carved wooden casks)
I am István Hudák, Master Cooper. I live in Tokaj and began crafting barrels and casks in 1972 using traditional methods (carving).

The barrels range in capacity between 1 – 50 litres and may be filled with wine or spirits, or used as beautiful decoration or souvenirs.
The carved design on the outside of the casks such as coats of arms, names, texts and other patterns can be made to order according to the desires of the customer.
We manufacture our products from oak or mulberry. The end product is then lacquered and equipped with either a spigot or stopper.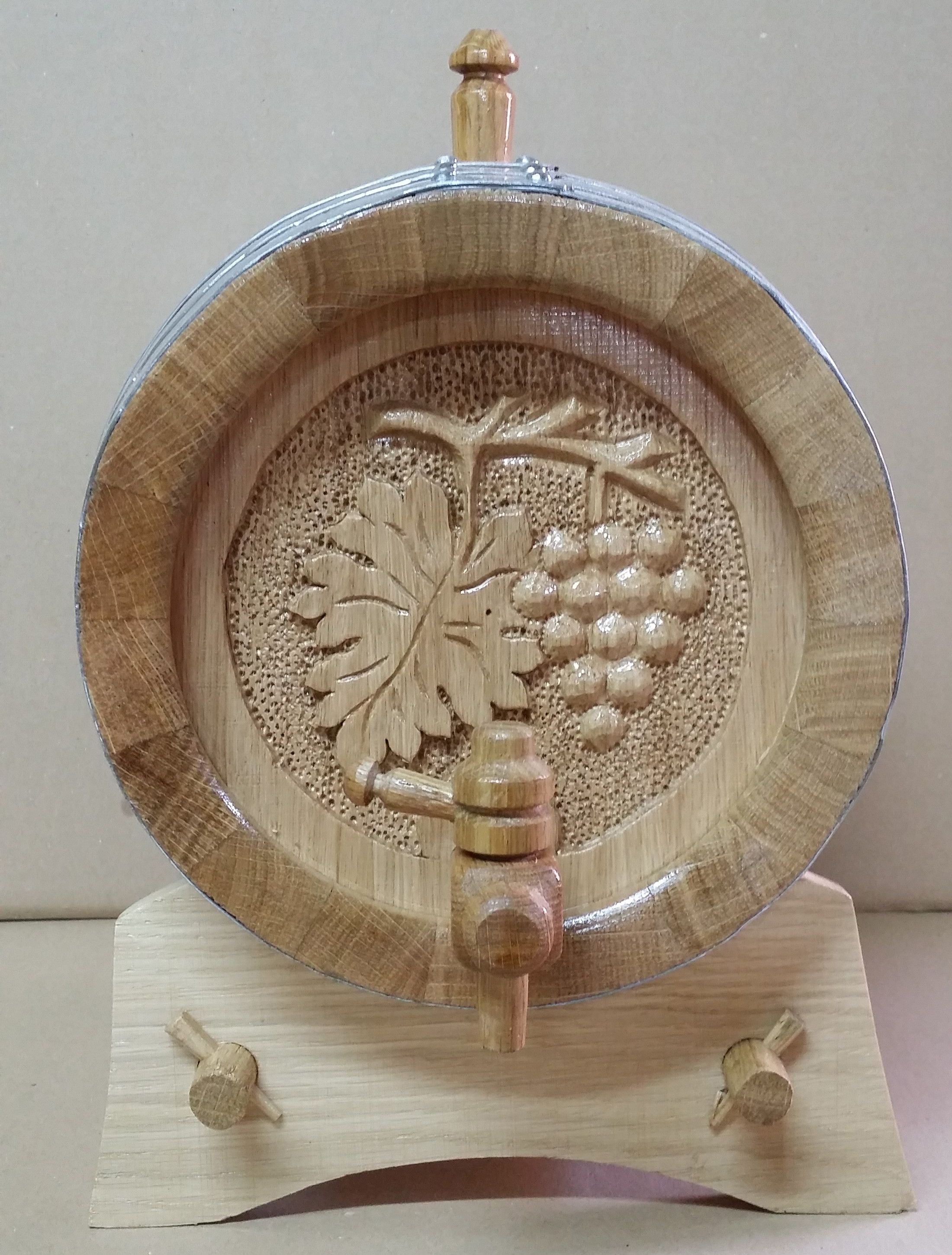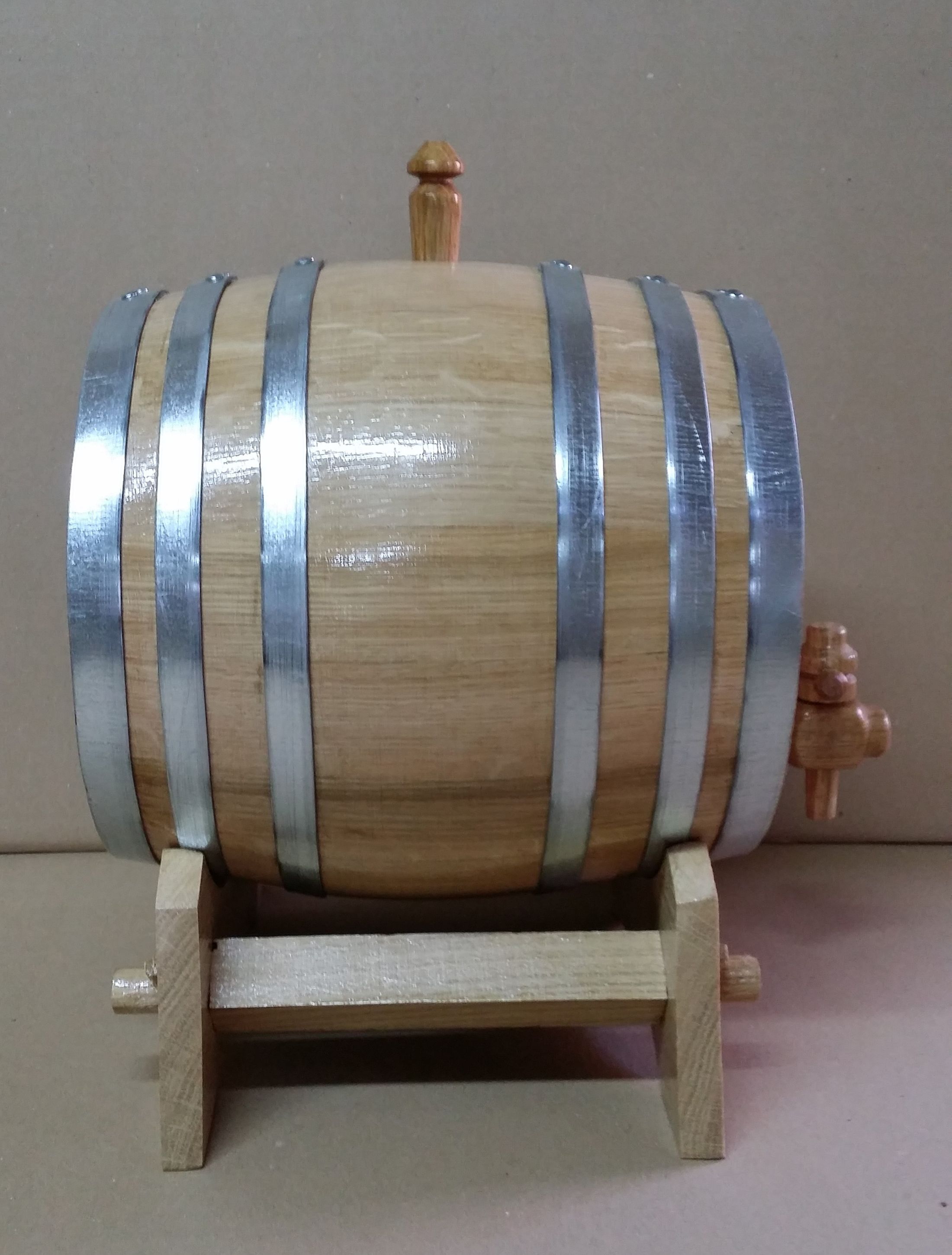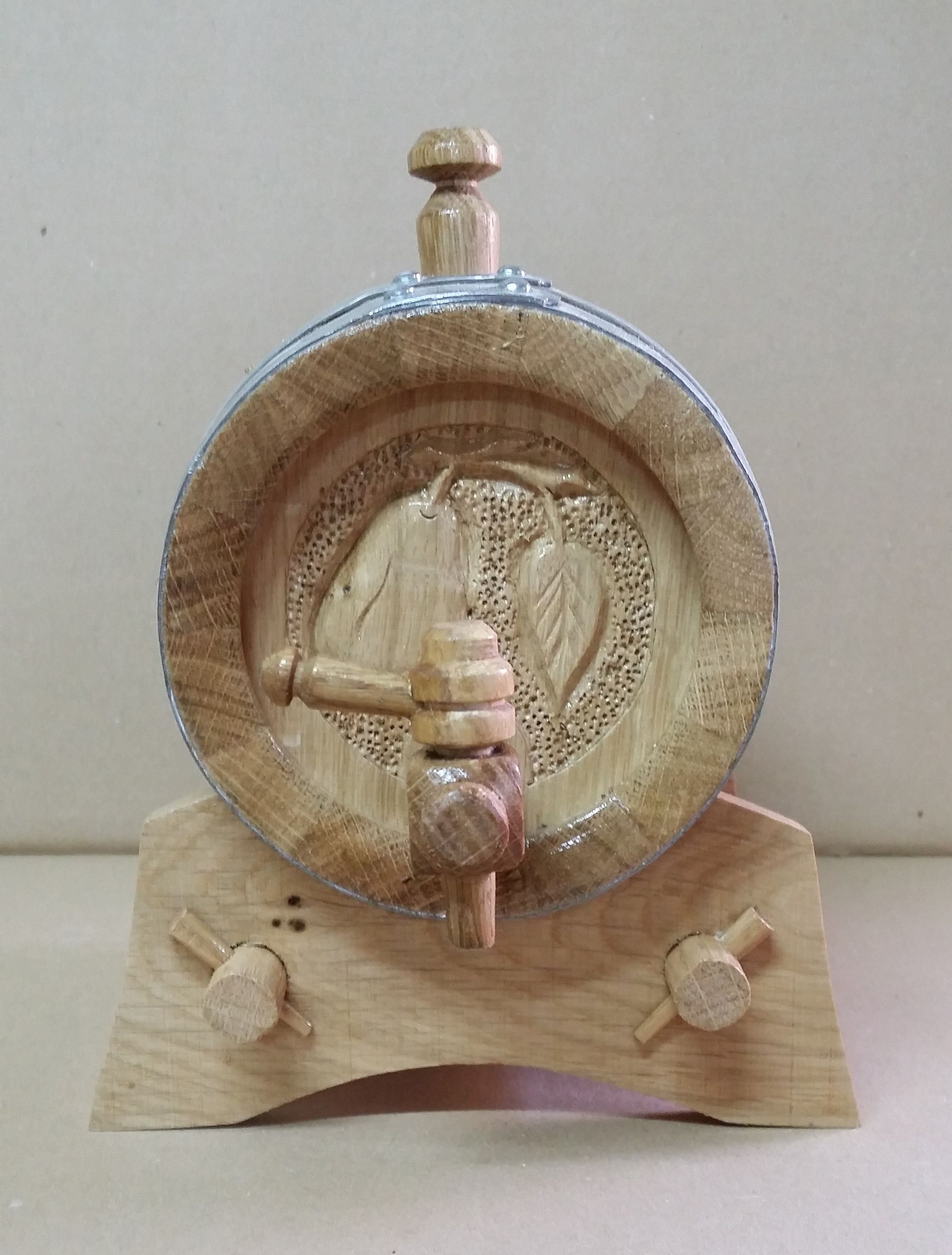 Further Information:
3910 Tokaj, Rákóczi út 30.
Tel: 06-20-363-3632 / 06-47-352-804
hudakhordo@gmail.com
---
Where can the products be found?