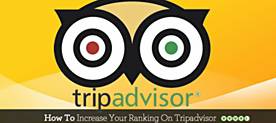 Aggtelek National Park Awarded Tripadvisor Certificate of Excellence
TripAdvisor® is the world's largest travel site.TripAdvisor offers trusted advice from real travelers and a wide variety of travel TripAdvisor branded sites make up the largest travel community in the world, reaching nearly 260 million unique monthly visitors, and more than 150 million reviews and opinions covering more than 4 million accommodations, restaurants and attractions.

Recently, we obtained the following certification based on the glowing evaluations of our visitors. We are very grateful for the positive feedback of our satisfied guests. Please take a minute to
rate us and give us your feedback as well
!
(Yes, we do realise that the site mistakenly has us listed in Eger at the moment, but that is being resolved.)