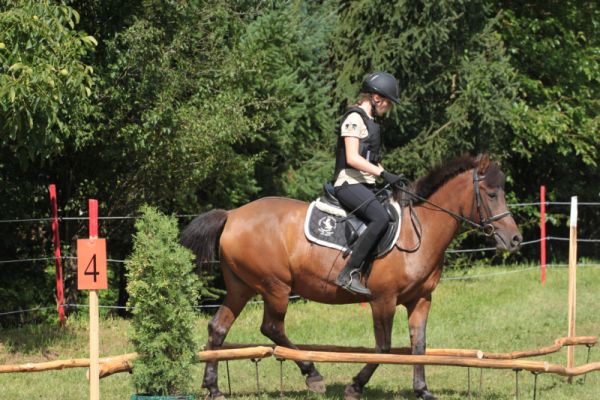 This year saw an even greater number of foreign farrier competitors representing 6 countries (HU, UK, FR, FINN, PL, Ger). The 21 competitors in all included two from Finland for the first time, 4 from the UK, and three women. William Hampson (UK) came last year as participant, and who has a Hungarian wife from Debrecen, returned as a judge this year. He was joined by compatriot Nigel Fennell, who at 27 has already won the UK National Farrier Championship, won silver in the world championships, and was a finalist in the European championships. As usual, events included forging 2 surprise shoes, shoeing, eagle eye, and the team wine opening competition. The first half of the day was brutally hot, especially in the farrier's tent. Later, the skies opened up in the afternoon and we got hit with a big storm that even took the power out for half an hour. I was worried that my pickles fermenting at home outside would be drowned, but 27km away it did not rain at all. Our guests from Hortobágy National Park were not deterred from performing their half-time show and demonstrated, among other things, the famous trick writer Zsigmond Móricz invented in one of his short stories which involves a rider standing astride 5 galloping horses. Horseback archers also showed their skills in the rain as spectators huddled at the edges of the tent. While the farriers could continue to compete under cover, the afternoon hucul events were unfortunately rained out.
I always look forward to the team wine opening competition. The organisers are always able to add a new twist to this event that is only held in Hungary. This year, a giant wooden fire salamander (Aggtelek National Park's logo) was constructed. Ten of the salamander's distinctive yellow spots were actually doors closed with 2 large bolts, behind which were hidden 5 bottles of beer and 5 bottles of Tokaj Furmint wine. The ten teams first had to fashion a tool to loosen the bolts on a spot. If they got the door open and it contained a beer, the event was over for them. If a team got a door open and there was wine, the team then had to forge a tool to open the wine without breaking bottle or pushing cork in. After getting a door open, most teams put their tool back in the forge and hammered out a new tool. However, the French just struck off one half of their spanner and proceeded to make a corkscrew from the remaining tine. Unfortunately, this did not help them. In the end, the British judges won the event this year. The German team were still working valiantly to make an appropriate tool 20 minutes after everyone else had pushed their corks in and were disqualified. Sadly, Tom and Jenny also eventually accidently pushed their cork in.
The last event of the day was Everyday Heroes. Spectators could register to compete, together with one of the farriers to make a horseshoe in 45 minutes. If I had known, I would have also tried, but there was no information anywhere about what this involved, so I could not register. Next year. Four of the 9 contestants were women, including the eventual 1st and 3rd place winners. I noticed Harry Meeks (UK) in particular was a patient and good teacher with his young charge who placed last, but with a big, proud smile on her face.
I also stopped into the Green Island Playhouse where Krisztina Visnyovszky took me through the different environmental interactive activities. Judit Dudás Galiczáné, manager of the MagtArt Arts Granary and I constructed storks nests and tried to balance a minimum of 3 eggs in them. I was blindfolded and ran my finger through a maze, turning left, right, up or down depending on the terrain encountered (moss, rocks, leaves...). Lastly, I competed with a young girl picking up different insects (painted on beans of different sizes) with origami bird beaks.
Farrier Participants Professional Category
Adam BRADLEY (UK)
József GODÓ (H)
Åke GUSTAFSSON (FIN)
Alexander HALL (UK) , was here for the first time last year
Tibor HEGEDŰS (H)
Vilmos HENCZ (H), 74 years old
István HORVÁTH (H)
Ludovic MATHIEU (F), twice silver medallist at the European Championships, 3rd at the World Championships, and 15-time national French champion. Ludovic was last year's overall winner in Jósvafő.
Harry MEEK (UK)
Loïc NIGON (F)
Norbert PRÓDÁN (H), Hungary's most decorated farrier, and 3-time overall winner in Jósvafő
George ROGERSON (UK), returning for the 3rd year in a row, and who was the 1st UK participant
Farrier Participants Novice Category
Gergely DEZSŐ (H)
Maria FURA (FINN)
Jenny HAGEN (D)
Attila LÖVEI (H)
Maciej ZAREMBA (PL)
Léa MATHIEU (F), Ludovic Mathieu's 18 year old daughter
Paweł MÓL (PL)
Sławomir PAWLOWSKI (PL)
Tom SCHICKTANZ (D)
On the way down to the event I walked past the bus stop near the directorate and picked a couple mushrooms I was able to show to Gabor Koltay who has his mushroom inspector certificate. Gabor and his wife Krisztina set up their annual stand selling their delicious organic homemade, and Aggtelek National Park certified jams and dried mushroom products.
In the novice category farriers had 75 minutes to forge 1 front and 1 hind shoe.
Front shoe results:
1. Léa Mathieu 47,8
2. Sławomir Pawłowski 40,2
3. Dezső Gergely 35,6
4. Lövei Attila 30,8
5. Tom Schicktanz 28,1
Hind shoe results:
1. Léa Mathieu 48,4
2. Lövei Attila 29,8
3. Tom Schicktanz 27,9
4. Sławomir Pawłowski 25,8
5. Dezső Gergely 17,3
Professional category
Front shoe results:
1. George Rogerson 51,6
2. Harry Meek 51,3
3. Ludovic Mathieu 49,6
4. Loïc Nigon 49,4
5. Pródán Norbert 48,6
6. Adam Bradley 46,7
7. Åke Gustafsson 39,9
8. Godó József 38,5
9. Horváth István 31,6
10. Hencz Vilmos 30,6
11. Hegedűs Tibor 28,7
12. Alexander Hall 28,1
Hind shoe results:
1. George Rogerson 52,5
2. Harry Meek 50,7
3. Ludovic Mathieu 49,1
4. Adam Bradley 47,7
5. Pródán Norbert 46,9
6. Åke Gustafsson 44,3
7. Godó József 34,7
8. Loïc Nigon 28,2
9. Horváth István 28
10. Hegedűs Tibor 16,9
11. Alexander Hall 9
12. Hencz Vilmos 7
Eagle Eye Competition - 15 minutes to make a shoe and shoe a horse
Results:
1. Ludovic Mathieu 30
2. George Rogerson 28,6
3. Harry Meek 28
4. Adam Bradley 25,4
5. Loïc Nigon 22,9
6. Pródán Norbert 21,6
Eighteen year old Léa Mathieu won the overall novice category:
1. Léa Mathieu 215
2. Sławomir Pawłowski 178,5
3. Lövei Attila 162,8
4. Tom Schicktanz 155,1
5. Dezső Gergely 148
6. Maria Fura 93,1
7. Jenny Hagen 80,2
8. Paweł Mól 53
9. Maciej Zaremba 37,5
George Rogerson won the overall professional category:
1. George Rogerson 272,8
2. Harry Meek 259,9
3. Ludovic Mathieu 257,1
4. Adam Bradley 239,6
5. Pródán Norbert 238,5
6. Loïc Nigon 218,8
7. Godó József 181,3
8. Åke Gustafsson 175
9. Alexander Hall 163
10. Horváth István 146,4
11. Hegedűs Tibor 124
12. Hencz Vilmos 101,8
full results in Hungarian here http://mape.hu/2016/08/a-kovetelmeny-a-patkolas-magasiskolaja/ and here
http://mape.hu/2016/08/josvafon-mindenki-maga-kovacsolta-a-szerencsejet/
Winners of the hucul events, by category:
Hucul Path Obstacle Course – adult category (13 competitors):
| | | |
| --- | --- | --- |
| Competitor | Horse | Club or Stable |
| Nikoletta Hartyán | Ousor Vadóc | Sajókaza |
| Brigitta Pető | Hroby Dömény | Aggtelek National Park |
| Brigitta Lipták | Hroby Csatár | Aggtelek National Park |
| Emese Kovács | Prislop Picúr | Gyűrűs |
| Emese Kovács | Ousor Judit | Gyűrűs |
Hucul Path Obstacle Course - junior category (11 competitors):
| | | |
| --- | --- | --- |
| Competitor | Horse | Club or Stable |
| Eszter Gönc | Ousor Csóka | Gyűrűs |
| Eszter Amarilla Mede | Bonifác | Gömörszőlős |
| Csenge Zoé Bittó | Pietrosu Pehely | Aggtelek National Park |
| Eszter Krisztina Barna | Hroby Egon (Rony) | Putnok |
| Rebeka Gyulasi | Ousor Judit | Gyűrűs |
Hucul Path Obstacle Course – child category (10 competitors):
| | | |
| --- | --- | --- |
| Competitor | Horse | Club or Stable |
| Boglárka Marosi | Goral Táncos | Aggtelek National Park |
| Eszter Palcsó | Pietrosu Pehely | Aggtelek National Park |
| Rebeka Gyulasi | Prislop Tamara | Gyűrűs |
| Boglárka Bánfalvi | Goral Táncos | Aggtelek National Park |
| Tamara Schwahofer | Ousor Judit | Gyűrűs |
Hucul Path Obstacle Course – senior category (4 competitors):
| | | |
| --- | --- | --- |
| Competitor | Horse | Club or Stable |
| Katalin Zsuzsanna Horváth Vörösné | Ousor Csóka | Gyűrűs |
| Krisztina Schwahofer | Ousor Judit | Gyűrűs |
| Vince Gáspár | Bonifác | Gömörszőlős |
| Andrea Tamási | Polan Borsó | Putnok |
Hucul Path Obstacle Course - sport category (19 competitors):
| | | |
| --- | --- | --- |
| Competitor | Horse | Club or Stable |
| Gergő Vörös | Ousor Csóka | Gyűrűs |
| Huca Veronika | Beruska | Slowensky Hucul Klub |
| Brigitta Pető | Hroby Dömény | Aggtelek National Park |
| Nikoletta Hartyán | Ousor Kasper | Sajókaza |
| Brigitta Lipták | Hroby Csatár | Aggtelek National Park |