Szőlőhegy Vineyards and Wine Cellar Walking Tour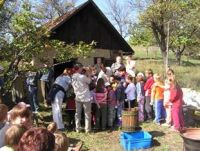 The 3-6 hour roundtrip from Jósvafő takes visitors through the exceptional karst topography of the region. Along the way, you will become acquainted with some local residents, the cultural history, traditional ways of life, and if you desire, the local cuisine. The Szőlőhegy Vineyards are approximately 3 km from the village.
Learn about the natural treasures and cultural history of the Gömör-Tornai-karst Region on this approximately 4 hour, 4.5 km walk (150 m difference in elevation).

Departure: This guided tour is only available by advanced booking. Please meet in the old town square of Jósvafő in the garden of the small wooden house called "Nyitott Szin."
Optimal group size: 5-40 people.
Ticket Prices: 1200 Ft/adult, 800 Ft/students and retired persons. Includes the fee for the guide, visit to the vineyard, and all incidental costs.

Tasting the local cuisine and wines, educational programmes, and ethnographic courses are available upon request, the costs to be discussed with the guide depending on your requirements.
Booking and Additional Information:
Mr. Béla Berecz
Tel: +36-30/3311-722
answering machine/fax: +36-48-350-053
E-mail: bb.josvafo@gmail.com