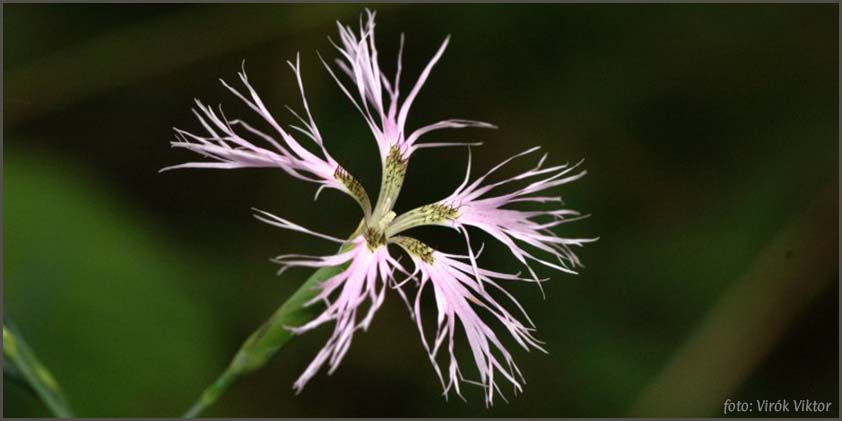 Wildflower of the Year 2015, the Feathered Pink (Dianthus Sect. Plumaria) Breaking from tradition, the wildflower of the year 2015 is not a single plant, but an entire species commonly known as the white pink or feathered pink. It is very difficult to distinguish between the different types of pinks, which is why they have been grouped together.
The group, however, are well-recognized, because unlike other domestic pinks they sport white or fringed petals. Several varieties are found in Hungary, including: the late pink (Dianthus serotinus), Baltic pink (D. arenarius), King Stephen (D-regis Stephani), Lumnitzer (D. Lumnitzer) and the early pink (D. praecox). The domestic pinks feature gray-green leaves and grow on 15-45 cm tall stems. The white fringed flowers usually appear at the top of the stem or on high side branches. Pinks are relatives of the common carnations found in gardens (Dianthus plumarius). In the wild, pinks such as the late or Baltic varieties prefer sandy soils, while others are found primarily in mountainous and rocky areas. The late pink is common between the sandy soiled lands between the Duna and Tisza Rivers, but the Baltic is only found at the foot of the Bakony Hills among pine woods. Feathered pinks are spread around the rockier Transdanubia, the King Stephen in the Keszthely and Buda Hills as well as the dolomite outcrops around Vac and Naszály, while the early pink only only proliferates in the Bükk and Torna Karst. Differentiating between the different varieties of pinks is not only difficult for the nature lover, but for the expert botanist as well.
The task has been made more difficult by the chaotic Hungarian and scientific morphology. Suffice it to say that pinks thrive from May until the first frost. Since all white pinks such as the Baltic pink are endemic and survive in small habitats, they have been protected since 1982 and carry a 10000 HUF fine for picking them. The two sandy soil varieties such as the late pink have been protected since 1996 and carry a 5000 HUF fine. Pink viability is most threatened by habitat degradation. Although the majority of their habitats are also located in protected areas, off-road motorbikes (often illegal) are especially threatening to the populations.
Source: Zoltán Barina evvadviraga.hu