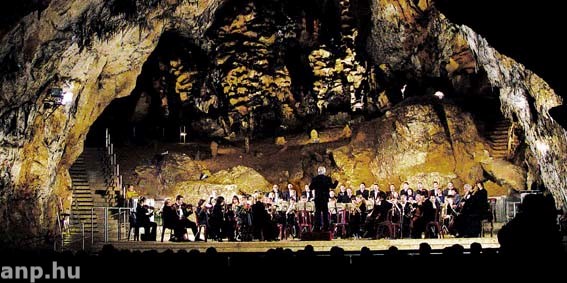 PRESS RELEASE
Conference on Potential Medicinal Cave Facilities and Wellness Services at Aggtelek National Park, and Charity Concert
Aggtelek-Jósvafő
April 11, 2015
A private charity event was organised on National Poetry Day by Aggtelek National Park (ANPI) in collaboration with Fruktárium Kft. (Trizs) with the aim to further develop wellness tourism at the national park.
The event was held in order to launch start-up funding for a project to further develop health tourism within the Aggtelek National Park and World Heritage Site's Baradla Cave and Béke Caves to directly benefit guests suffering from respiratory difficulties. Obtaining medical certification for the facilities is a basic criterion before being able to expand the infrastructure and financing necessary to attract the interest of health tourism operators, local governments, the business sector and health care representatives.
The patron of the event was Hungarian MP Gábor Riz.
The conference was held in the Cseppkő Hotel (Aggtelek), and began with a lecture on "Medicinal Caves: Places of Health and Healing," by Dr. Edit Hidvégi, chief doctor at the National Korányi Tuberculosis and Pulmonary Institute. ANPI Deputy Director Péter Gruber then elaborated upon the Park's development plan for the next seven years, the vision for the development of the Zemplén Nature Reserve, and recently completed extensive improvements.
The mini-conference was followed by walk through the Baradla Cave to the Hall of Giants where attendees were treated to MultiTalent Stúdió (Budapest) children's theatre troupe performing contemporary and 20th century poems set to music organised around the theme of the four seasons.
For more information:
Eszter Bodó
Health Tourism Policy Officer
egeszsegturizmus.anpi@gmail.com
Tel: 06-30-617-7387
regi.anp.hu